This content was published in the period between 3 October 2014 and 20 January 2019
Ministers on this page who have left the Government
Between 3 October 2014 and 30 November 2021 he was Prime Minister.
Ministers on this page who have left the Government
Between 3 October 2014 and 30 November 2021 he was Prime Minister.
Syria, Russia, migration and trade in focus at European Council
When the EU heads of state and government gathered for the European Council meeting in Brussels on 20 and 21 October, four issues were in focus: migration, the EU's relations with Russia, the escalating humanitarian and security crisis in Syria, and trade. Prime Minister Stefan Löfven participated in the meeting, which incidentally was the first such meeting attended by the new UK prime minister Theresa May.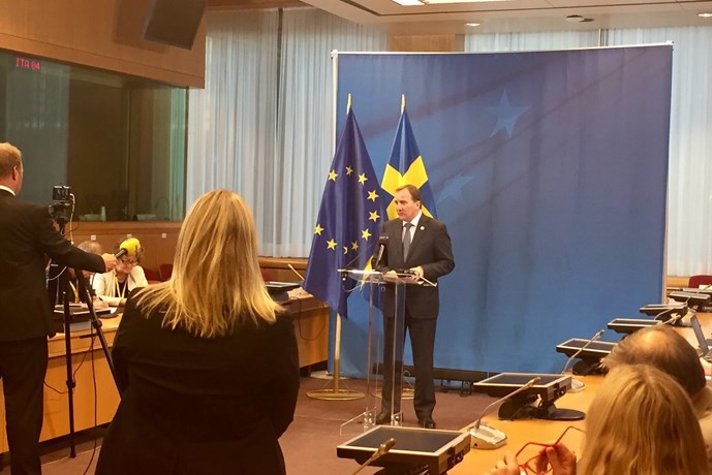 Syria
The leaders also discussed Syria. Mr Löfven and several others wanted the EU to discuss sanctions against Russia in light of bomb attacks on the Syrian civilian population in pursuit of IS terrorists.
EU relations with Russia
The 28 EU leaders also had a long strategic discussion on the EU's relationship with Russia. They noted that, thanks to purposeful work in recent years, the Member States had successfully formulated and maintained consensus on a clear policy towards Russia. Mr Löfven again raised Russian actions in Ukraine as unacceptable.
Trade
Global and economic issues were also raised in the Council conclusions. The EU's ratification of the Paris Agreement on climate change was welcomed and previous conclusions on the importance of implementation of initiatives on the single market were reiterated.
Migration
EU progress in managing the migration crisis was discussed on the Thursday. The EU leaders noted that cooperation had moved forward and that the influx of irregular migrants had now reduced. New forms of cooperation between EU and African countries on development in countries of origin and transit, as well as the return of economic migrants, were also in focus during the discussions. The objective of cooperation is that fewer people are ultimately forced to flee.