This content was published in the period between 3 October 2014 and 20 January 2019
Ministers on this page who have left the Government
Between 3 October 2014 and 20 January 2019 she was Minister for Higher Education and Research.
Ministers on this page who have left the Government
Between 3 October 2014 and 20 January 2019 she was Minister for Higher Education and Research.
"Space activities can and should contribute to a functioning society"
Space is the focus of the National Innovation Council meeting on 24 November 2016. Minister Helene Hellmark Knutsson provides an update on the Government's work in the area of space. Space activities can and should contribute to a functioning society. They should also be a tool for development and innovation, leading to growth. These were the proposals of the Space Inquiry's report, which was presented to Minister for Higher Education and Research Helene Hellmark Knutsson in September 2015.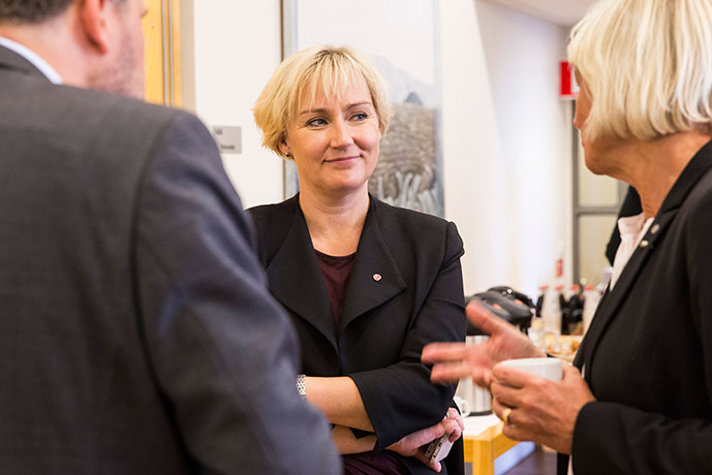 What is the most important thing happening at the moment in the Government's work in the area of space?
The Research Bill is now ready for a government decision and will be presented on Monday 28 November. One important section of the Bill deals with space and its importance for environment and climate work, and how satellite data gives us better conditions to tackle the threat of climate change. On the basis of last year's Space Inquiry, we have tasked Jan Nygren with gathering knowledge about market needs and conditions for developing the Swedish space centre Esrange to be able to send small satellites into orbit. Less than a month ago, I received his internal report, which we will now analyse and also discuss in the Innovation Council.
There are several exciting projects under way in the area of space, in both Sweden and Europe, where a few processes are ongoing that will be of major significance to Swedish and European space activities in the future. The Commission presented its Space Strategy for Europe a few weeks ago, and it will be discussed at the meeting of the Competitiveness Council next week and then dealt with in the Council in the spring. Sweden will play an active role to ensure that its implementation is efficient, within budget and effective. Parallel to this, intensive work is under way at the European Space Agency, and the first ministerial meeting in two years will take place in early December to determine the programme and budget priorities for several years to come.
The Space Inquiry proposes that space activities should be 'a tool for development and innovations leading to growth'. Can you elaborate on this and give some concrete practical examples?
There are many examples of how space activities contribute to development and innovations that are of interest to many other sectors. Development and innovations from the space sector are often tools or levers for other societal functions. Already today, we benefit from many space-related services in our everyday lives without even realising it. Let me mention perhaps the clearest growth opportunity, namely new services and companies that can grow by creating added value from the enormous amounts of satellite data that is generated and downloaded to earth day and night. Companies with advanced services for agriculture, banking, retail trade, crisis management and navigation, etc. have grown in recent years, and as it becomes possible to gather more kinds of data, new innovative and pioneering services will be created. Another example is that the research that is possible in the weightlessness of space can lead to new discoveries in material physics or medical research, for example, which in turn provide growth potential. The advanced technological and industrial development needed to design and produce space technology also benefits other sectors of society in the long run. Finally, the interest in technology and science that space inspires among young people means that more people in the long run will study engineering or enter research.
How can the National Innovation Council help space activities provide greater benefit for society?
The members of the National Innovation Council have a great deal of experience and expertise. They come from different backgrounds and areas of activity and have a good chance of seeing how opportunities created in one area – in this case space activities – can generate growth, innovation opportunities and jobs in other business sectors. The fact that the National Innovation Council has such firm political support from the Prime Minister and four ministers is a good indication that good ideas that come up during the meetings can be implemented more quickly and can contribute to Sweden's development and reindustrialisation. The National Innovation Council also receives a lot of media attention that can be focused on particularly interesting opportunities, which can have a knock-on effect and provide unexpected exchange of ideas and in the long run synergies.