This content was published in the period between 3 October 2014 and 20 January 2019
Ministers on this page who have left the Government
Between 3 October 2014 and 30 November 2021 he was Prime Minister.
Ministers on this page who have left the Government
Between 3 October 2014 and 30 November 2021 he was Prime Minister.
EU leaders agreed to strengthen cooperation with Libya
Preventing the loss of lives in the Mediterranean was a top priority when EU leaders met at an informal summit in Valetta on 3 February.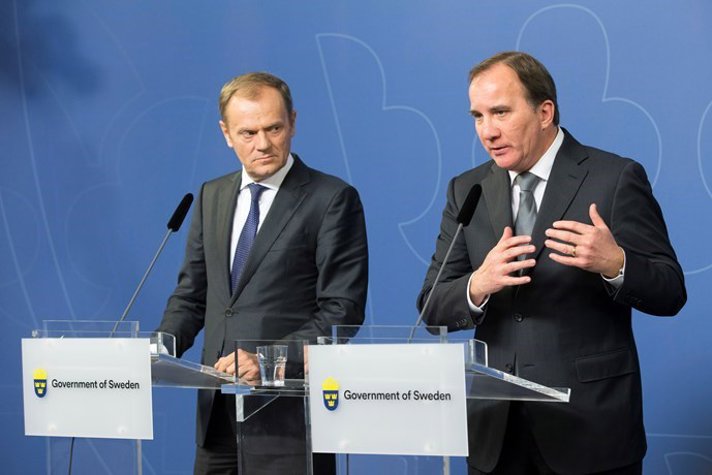 EU leaders met in Valetta on 3 February to strengthen cooperation with Libya. The aim is to support the country's development and prevent human smuggling, which has already taken the lives of thousands of people in the Mediterranean. Future European cooperation was also discussed at the meeting. Prime Minister Stefan Löfven represented Sweden.
The photo is from President of the European Council Donald Tusk's visit to Sweden last year. Photo: Government Offices/Martina Huber
"I welcome the fact that the EU has agreed on measures to combat human smuggling and save lives in the Mediterranean. This work will be done with respect for international law and in close cooperation with the UN bodies for refugees and migration."
Mr Löfven made this statement when representing Sweden at the informal EU summit on Malta.
Libya is the main country of departure to the EU for migrants along the Central Mediterranean route and is a base for human smugglers. The joint Declaration adopted by EU leaders on Malta means that the EU is strengthening cooperation with Libya. This will include operations and development assistance to stabilise the country's fragile political process.
The EU leaders also discussed the future of European cooperation. This discussion is a continuation of their reflections at the informal summit held in Bratislava last September. The UK did not take part in the discussion due to the country's impending exit from the EU.