WikiGap increases gender equality on the internet
The whole world helped to fill Wikipedia with articles on prominent women on International Women's Day. The WikiGap campaign has already been established in over fifty countries, and the hope is that it will be long-lasting.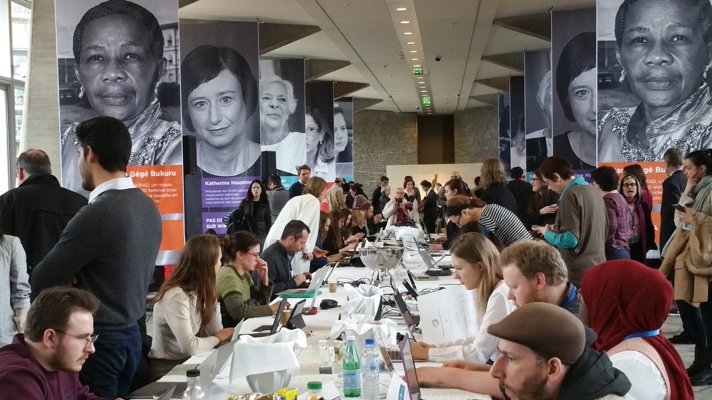 On 8 March, the Swedish Foreign Service conducted a worldwide drive to increase gender equality on the world's largest online encyclopaedia. UN Headquarters in New York was filled with editors, in Colombia articles were written about women in peace processes, and in Lusaka the role of women in Zambian society was highlighted.
The people of Tanzania nominated 150 prominent women who are not yet represented on Wikipedia. After 8 March, this state of affairs was changed for many of them, but the list of women who are not on Wikipedia is still long.
"It's clear that there is no lack of women who have done positive things, but there is a lack of representation," says Charlotte Compton at Sweden's Embassy in Tanzania.
In Stockholm, the Ministry for Foreign Affairs held an edit-a-thon on the theme of women in the world of technology together with the KTH Royal Institute of Technology and Wikimedia Sweden. Wikimedia Sweden is the Swedish local branch of the Wikimedia Foundation, which runs Wikipedia. It is a non-profit organisation that works to make knowledge accessible and free to all. Minister for Foreign Affairs Margot Wallström was in attendance and praised WikiGap as a clear example of how a feminist foreign policy can be pursued in practice.
"This impact will be an immediate reality for all of those who use the internet," she told the audience in the library of the KTH Royal Institute of Technology.
It was then the turn of KTH Vice-Chancellor Anna Wahl to speak, followed by Sara Mörtsell and John Andersson from Wikimedia Sweden, who talked about their work and Wikipedia.
"I didn't realise it was so easy and open for everyone," says Chiara Coletti, one of the volunteer editors in Stockholm.
More than 2 000 Wikipedia articles about women were created or improved during the event on 8 March, but WikiGap is far from being a closed chapter. In many places, the writing continues and the hope is for WikiGap to live on through other actors. The Ministry for Foreign Affairs has produced a manual that will soon be published on how similar edit-a-thons can be organised.
Underrepresentation of women on Wikipedia is a challenge that Wikimedia has identified and has been trying to change for a long time, but the Swedish Ministry for Foreign Affairs first became engaged in India in 2017. Sweden's Embassy in New Delhi held an edit-a-thon that was to become the start of WikiGap, after Feminism in India noted that only 3 per cent of Indian editors on Wikipedia were women.