This content was published in the period between 3 October 2014 and 20 January 2019.
Brexit and migration at the European Council
The European Council discussed Brexit, migration and internal security on 17–18 October. Prime Minister Stefan Löfven and his colleagues also addressed EU relations with the Arab League and the EU's negotiating mandate ahead of the COP24 climate conference.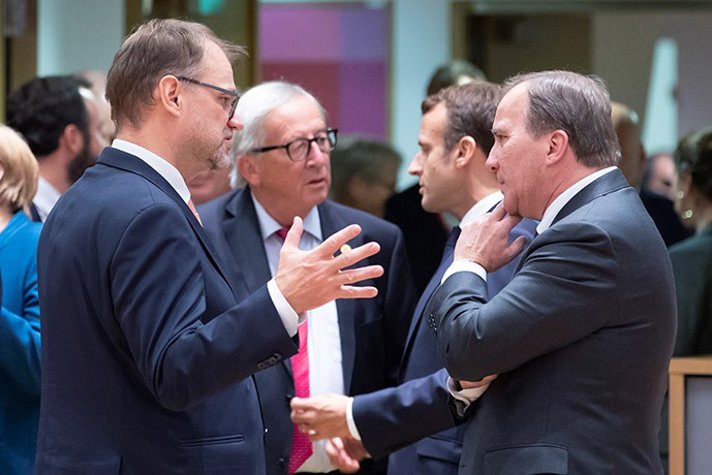 Brexit
After an update from UK Prime Minister Theresa May, the EU leaders met in an EU27 format (i.e. without the UK) on Wednesday evening. The European Commission's Chief Negotiator Michel Barnier reported from the ongoing negotiations on the UK's withdrawal from the EU. The EU leaders discussed the state of the negotiations and reaffirmed their full confidence in Mr Barnier, but noted that sufficient progress had not yet been made to enable a meeting to be convened in November.
Migration and internal security
Migration and the control of the EU's external borders were among the main agenda points. The EU leaders discussed efforts to combat human smuggling, cooperation with countries of origin and transit, work on the common asylum system, returns and the European Border and Coast Guard Agency.
They also discussed how to improve internal EU security. The European Council conclusions state that the EU will strengthen its efforts to combat disinformation, for example in EU elections, and cyber threats.
External relations and COP24
The EU's external relations, for example with the Arab League, and the upcoming climate negotiations ahead of COP24 in Katowice, Poland, were also discussed.
Prime Minister Stefan Löfven represented Sweden at the European Council meeting in Brussels.