This content was published in the period between 21 January 2019 and 8 July 2021.
Discussions, meetings and collaboration for developing Sweden
Interesting discussions and new perspectives characterised the National Innovation Council meeting and thematic day at Linnaeus University in Kalmar on 23 October. The aim of the Council's regional meetings is to learn from local and regional experiences and to develop the national policy. Alongside the meeting, various workshops were also organised as part of the Innovation Council's thematic day.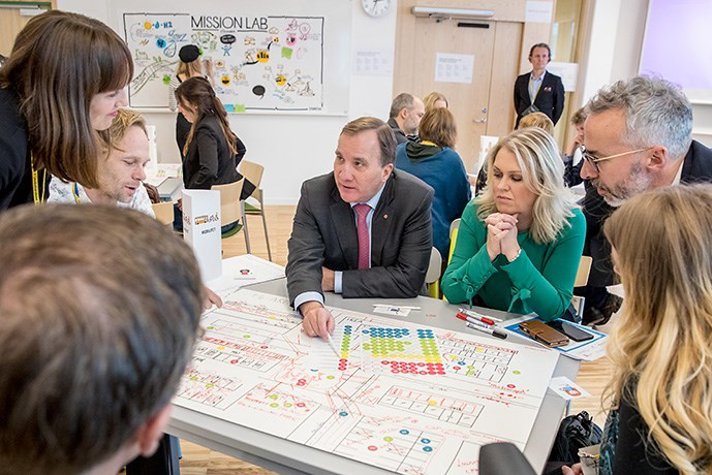 The National Innovation Council meeting, which was led by Prime Minister Stefan Löfven, focused on how society can address complex social challenges through innovation and cooperation. The Council meets 6 times per year, of which two meetings are regional. The meeting and thematic workshops in Kalmar were jointly planned by the county administrative board and Region Kalmar and, in addition to the core issues of cooperation and innovation, focused on two themes: eHealth and sustainable water use, which are important issues for the region. Meeting participants discussed the problems associated with water scarcity and the challenges arising from a steadily aging population that put a strain on the health and welfare sector, particularly eHealth. A great deal of attention was given to the solutions and opportunities that innovation and technology can present.
Lena Miranda, CEO of Science Park Mjärdevi and member of the National Innovation Council, participated in the meeting in Kalmar.
Why is it important for the Innovation Council to have meetings in different regions of Sweden?
"The Government has expressed the desire to see more innovation – not just in the business sector but in all areas – throughout the country, and not limited to metropolitan areas. I think this is the right way to go. Innovation happens everywhere, and our job is to create the best possible conditions to contribute to this. We have to make sure that people feel they are involved and create an impact – inclusion is very important to also ensure the survival of democracy," says Ms Miranda, and continues:
"Around our country, there are many good examples at local and regional level that are important for us to see and understand at national level when decisions on new initiatives are to be taken. From this perspective, the Innovation Council's visits around the country are important."
The Prime Minister, other government ministers and Council members, together with regional actors from academia, the business sector and society, took part in the meeting. One of the participants was Cecilia Schelin Seidegård, Deputy County Governor of Kalmar County.
What do you consider to be important lessons from today's meeting and which are also relevant to the national policy?
"Innovation takes place throughout the country. We need to find forms to spread good ideas between different regions in order to benefit from what already exists. Kalmar County will gladly be part of various testbeds, both when it comes to water issues and eHealth. There is a strong commitment to work together to make a difference. We can take the initiative and conduct tests on a small scale, which can then be implemented on a large scale," says Ms Schelin Seidegård.
High level of activity at Innovation Council workshops
Running alongside the meeting was the Innovation Council's thematic day, with activities in workshops under the guidance of Vinnova and Hack for Sweden. Participants had the chance to test cooperation methods and find common goals and ways to solve social challenges. The theme here as well was sustainable water use and eHealth.
The day's programme concluded with a meeting of participants from both the Innovation Council meeting and the workshops to jointly report on experiences from the day. Many people spoke about the benefit of different actors meeting to discuss and provide different perspectives and solutions to complex social challenges. In conclusion, Mr Löfven highlighted the importance of regional cooperation for innovation, and also open dialogue between local, regional and national activities. The ambition now is to continue working on the ideas, comments and proposals that emerged during the activities of both groups.