This content was published in the period between 21 January 2019 and 8 July 2021
Ministers on this page who have left the Government
Between 3 October 2014 and 30 November 2021 he was Prime Minister.
Ministers on this page who have left the Government
Between 3 October 2014 and 30 November 2021 he was Prime Minister.
Prime Minister met Svetlana Tikhanovskaya
Prime Minister Stefan Löfven received Svetlana Tikhanovskaya, the exiled leader of the Belarusian opposition, yesterday, 18 November.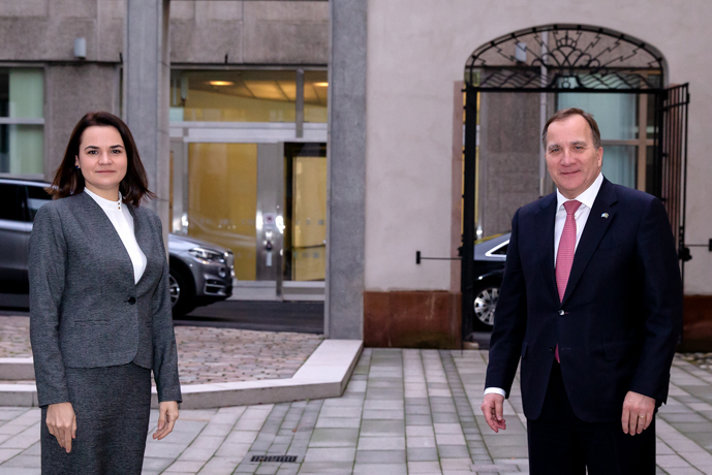 "Svetlana Tikhanovskaya is a symbol of the Belarusian people's struggle and the peaceful opposition's quest for democracy and human rights. It is a reminder of how valuable democracy is, and why we must stand up for it all over the world," said Mr Löfven in a comment following the meeting.
Ms Tikhanovskaya received strong public support as a candidate in the presidential election in Belarus. The election was neither free nor fair, and was marked by widespread electoral fraud and political oppression. The Belarusian authorities have met peaceful demonstrations with brutal violence, and a large number of critics of the regime and political opponents have been detained. Ms Tikhanovskaya herself has left the country for her own safety.
A united EU has condemned the actions of the Belarusian authorities and introduced sanctions against Belarus, and will continue to support the Belarusian people's legitimate demands to be allowed to choose the leader of their country through free and fair elections.
Sweden is one of the largest bilateral donors to Belarus, and Sweden's long-term support has helped strengthen Belarusian civil society. In light of the very serious developments since the presidential election, Sweden's support to civil society organisations has been further intensified.
During her visit to Sweden, Ms Tikhanovskaya also met with Minister for Foreign Affairs Ann Linde.