This content was published in the period between 21 January 2019 and 8 July 2021
Ministers on this page who have changed areas of responsibility
Betweeen 21 January 2021 - 30 November 2021 he was Minister for Home Affairs.
Between 03 October 2014 – 21 January 2021 he was Minister for Enterprise and Innovation.
Ministers on this page who have changed areas of responsibility
Betweeen 21 January 2021 - 30 November 2021 he was Minister for Home Affairs.
Between 03 October 2014 – 21 January 2021 he was Minister for Enterprise and Innovation.
New statistics show record numbers of police employees
According to the Swedish Police Authority's latest annual statistics, the Authority has a total of 33 726 employees as of 31 December 2020. This is a record-breaking increase of 5 463 new police employees since the start of the major investment in the Police in 2016.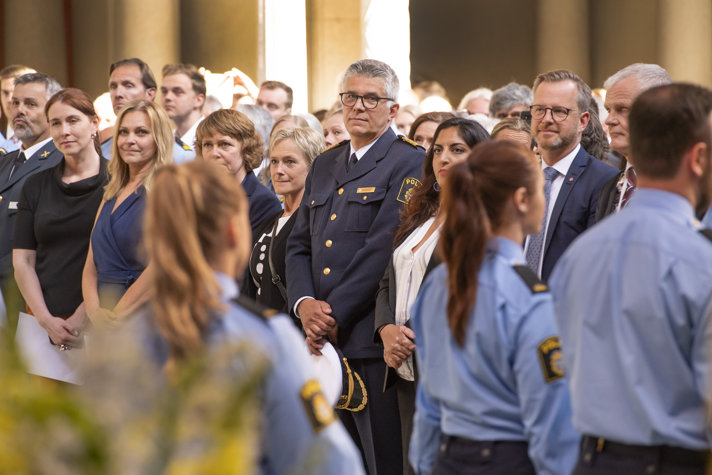 "The number of police officers and civilian employees in the Swedish Police Authority is at an all-time high. The number increased in every police region in 2020. Our expansion of the Swedish Police will continue and we have now passed the halfway point in our efforts to add 10 000 employees to the Authority between 2016 and 2024. Additional colleagues will make the police service safer and ensure more effective law enforcement," says Minister for Home Affairs Mikael Damberg.
Seven hundred new students have recently begun their training on one of the five police training programmes around the country. Some 1 400 new police officers are expected to complete police training this year. This is more than twice the number of students compared with ten years ago, when the number was only 600.
The increase is partly due to the Government's investment in additional higher education institutions. As a result, the training is now available in two more cities – Borås and Malmö. Another factor is that police service conditions have improved, with more colleagues and a base salary increase of SEK 5 000 per month since 2015.
Of the 33 726 employees within the Swedish Police Authority, 20 942 are police officers and 12 784 are civilian employees. The number of newly qualified employees this year marks a turning point for police growth. In a shift from a workforce that previously consisted of more civilian employees, the police training programme is starting to make an impact with a greater number of police officers in the field.
As interest in the police service has increased, the Government has initiated a new, accelerated admissions process for the police training programmes. Introduced in 2020, the process is more flexible and allows admitted students to choose one of the three upcoming semesters to start their training.
Another important reason for the increased number of police employees is that fewer have left. During 2020, 628 police officers left, which is 200 fewer than the previous year. More than one in four police officers who left before 2015 have also been rehired. Operational training has also been introduced for civilian experts – people with an appropriate background who will work in investigative units and other specialised areas. This is an accelerated programme from which more than one hundred graduates are expected annually.
As the number of police employees steadily increases, the police presence in both disadvantaged and rural areas will increase, which is a prerequisite for effective law enforcement.
Background
Police presence is critical to law enforcement. The Swedish Police Authority must grow to be able to investigate and solve more crimes and thereby increase security in society. For this reason, the Government has launched a historic investment in the Swedish Police Authority, which entails an increase of 10 000 employees by 2024. The halfway point of 5 000 employees was passed in 2020. Several thousand police officers will begin their employment around the country in the coming years.
The funding to finance the initiative has increased successively and the Swedish Police Authority will have more than SEK 30.5 billion at its disposal in 2021. This is approximately SEK 6 billion more than 2018. Giving the police more resources increases pressure in other parts of the judicial chain. The Government therefore proposed investments to enhance the entire judicial system in the Budget Bill for 2020. The Police will continue to need increased resources. The appropriation for 2021 is over SEK 1 900 million more than in 2020. Additional funding of SEK 1 650 million is proposed for 2022.