This content was published in the period between 21 January 2019 and 8 July 2021
OSCE Chairperson-in-Office Ann Linde launches advisory group of experts on women, peace and security
The Chairperson-in-Office of the Organization for Security and Co-operation in Europe (OSCE), Swedish Minister for Foreign Affairs Ann Linde, launched 26 February 2021 a new advisory group of experts on women, peace and security. The group will play an advisory role to strengthen work on the women, peace and security agenda in the OSCE – an important issue for Sweden as Chair of the organisation in 2021.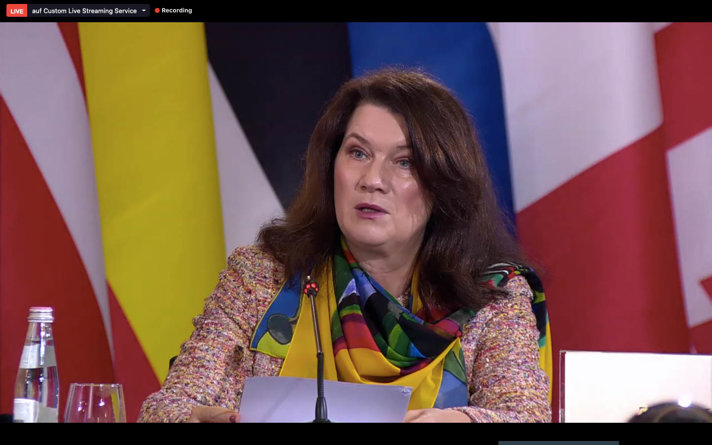 The first advisory group meeting was held on 26 February under the leadership of its Chair, Lena Ag, Director General of the Swedish Gender Equality Agency. The advisory group's objective is to provide advice and proposals to Ms Linde on how she, as Chairperson-in-Office, in cooperation with her Special Representative on Gender Liliana Palihovici, can work to strengthen the OSCE's implementation of the women, peace and security (WPS) agenda.
Implementation of the WPS agenda is one of Sweden's top priorities as OSCE Chair in 2021. Sweden's efforts will also focus on defending the European security order and the OSCE's comprehensive concept of security, as well as working to resolve the protracted conflicts in the OSCE region. During its term as Chair, Sweden will give considerable emphasis to mainstreaming the WPS perspective into the day-to-day work, and to promoting women's economic empowerment and more inclusive peace and conflict-related processes. The advisory group members' expertise and broad experience from civil society, academia and international organisations will be a valuable resource for this work.
The advisory group will meet at least four times during Sweden's term as Chair to discuss current items on the OSCE agenda from a WPS perspective. At the end of the year, the group will also present recommendations to the current and incoming OSCE Chairpersonships on how the OSCE's WPS work can be further strengthened.