This content was published in the period between 21 January 2019 and 8 July 2021
Sweden highlighted the importance of wetlands to the climate on World Environment Day
This year's theme for UN World Environment Day was 'Ecosystem Restoration'. One Swedish example is the Government's drive in recent years to restore wetlands. This has a positive impact on biodiversity and the capacity to bind carbon dioxide. Artic wetlands are at severe risk of destruction due to climate change.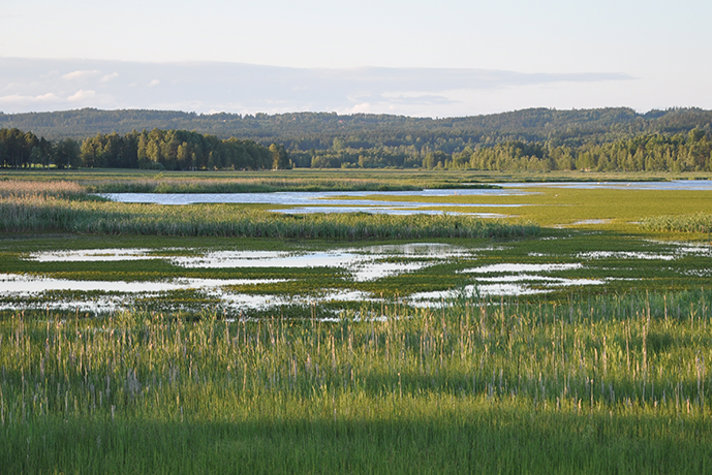 The theme of this year's World Environment Day, on 5 June, was Ecosystem Restoration. Pakistan hosted the event together with the United Nations Environment Programme (UNEP). The UN Decade on Ecosystem Restoration was launched at the event. Ecosystem restoration can involve many different measures, such as blocking ditches, clearing overgrown areas, increasing urban green areas, reintroducing traditional land use such as grazing or mowing , or cleaning contaminated water or land.
Knowledge about the wetlands' importance to the climate has increased in recent years. Wetlands have a unique biodiversity and provide good access to clean water. They also store huge amounts of carbon in the form of peat.
In the 19th and 20th centuries almost three million hectares of wetlands in Sweden were drained, or about 25 per cent of the original wetland-area. In most cases, the ditches were dug and other areas drained to create new land for agriculture or to increase forestry production. Other reasons include peat production and road construction.
Restoring damaged wetlands can reverse negative trends. The Government launched a wetlands initiative in 2018 to encourage municipalities to restore and construct wetlands. This showed that these measures contributed to balancing water flows, increasing the influx of groundwater, and furthering biodiversity and the climate.
The multifunctionality of wetlands is a positive contribution to the achievement of the Swedish Environmental Quality Objectives, several of the Sustainable Development Goals of the 2030 Agenda and our international climate targets. The issue has long been on the international agenda. The international Convention on Wetlands, also called the Ramsar Convention, was signed in the Iranian city of Ramsar in 1971 and has since been adopted by most of the UN Member States.
A great part of the world's wetlands are in the Arctic region, which includes northern Sweden. Arctic wetlands are of major importance to biodiversity and to the many indigenous people who live there.
Climate change has a major impact on the Arctic region and its wetlands. Even a small temperature increase can have a huge effect, since this causes the permafrost to thaw with the resulting risk of large amounts of greenhouse gases being released. Palsas, a unique type of Arctic wetland are at risk of being destroyed due to global warming. To counter this, it is important to protect, manage and, when necessary, restore wetlands.
In 2017, at Sweden's initiative, the Arctic Council launched a project to compile knowledge about the role of the Arctic wetlands in the climate. The project is led by the Arctic Council's Conservation of Arctic Flora and Fauna (CAFF) working group and comprises three parts – inventory, needs analysis and field studies, and recommendations.
The project report was presented at the Arctic countries' foreign ministers meeting in spring 2021. The report, entitled 'The Resilience and Management of Arctic Wetlands', contains 13 key findings and 20 recommendations, based on different geographical areas to maintain and strengthen wetland resilience. Many of these recommendations are relevant to all kinds of wetlands, not just those in the Arctic.
Restoration of peatforming wetlands helps mitigate climate change. The Arctic countries holds large areas of drained wetlands of this kind that could be restored for the climate, biodiversity, water quality and water hydrology.
About wetlands
Wetlands are land areas where there is water just below, on, or just above ground level for most of the year. Wetlands are one of Sweden's most important carbon stocks and they retain carbon as long as their natural functions are preserved. Natural peatlands make up an important share of the world's wetlands. Land drainage has resulted in certain plant, frog and bird species that live in wetlands being at risk of extinction. Swedish wetlands are home to many red-listed species.