This content was published in the period between 21 January 2019 and 8 July 2021
Swedish Minister for Defence spoke at Indian-Swedish defence industry seminar
Swedish Minister for Defence Peter Hultqvist and his Indian counterpart, Minister of Defence Rajnath Singh, today participated in a digital seminar focusing on defence industry cooperation between India and Sweden. In his speech, Peter Hultqvist stressed the countries' close and long-standing bilateral relations and their growing strategic partnership, not least on defence issues.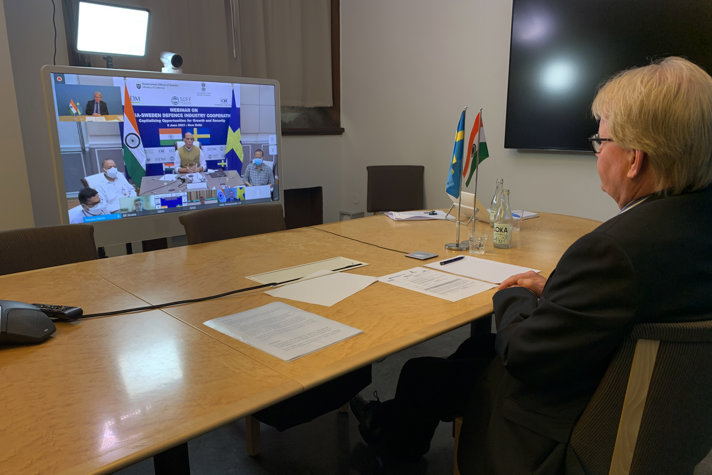 Diplomatic relations between India and Sweden date back to 1949 and have been characterised by frequent high-level interactions between their senior officials. It is a partnership that forms a robust platform for expanding relations of mutual benefit.
"The Swedish Government attaches great value to the close and cordial partnership that has developed over many decades between Sweden and India. Through our combined efforts, we can bring solutions to the problems of the future," Mr Hultqvist said in his speech.
Sweden and India signed a Memorandum of Understanding on defence cooperation in 2009. In 2018 Prime Minister Modi and Prime Minister Löfven decided on a Joint Action Plan and a Joint Innovation Partnership to further advance bilateral cooperation, including in the area of defence. More recently, at the India-Sweden Virtual Summit in March this year, Prime Minister Modi and Prime Minister Löfven highlighted defence as an important area for enhanced bilateral relations.
"Our interaction here today is crucial for a better understanding of each other's interests in defence and industry policies. Interacting in the defence domain is not only an important delivery on the Joint Action Plan, it's a way to create real connections and build future cooperation," said Mr Hultqvist.
The seminar on India-Sweden defence industry cooperation was jointly hosted by the Indian Department of Defence Production, the Society of Indian Defence Manufacturers, the Confederation of Indian Industry and the Swedish Security and Defence Industry Association.