This content was published in the period between 9 July 2021 and 30 November 2021
Common security challenges and deepened cooperation in focus at EI2 Defence Ministerial Meeting in Stockholm
Common security challenges and how the cooperation within the European Intervention Initiative (EI2) can be developed even further were some of the agenda items when EI2's thirteen member countries met in Stockholm. Sweden and Minister for Defence Peter Hultqvist hosted this year's annual meeting.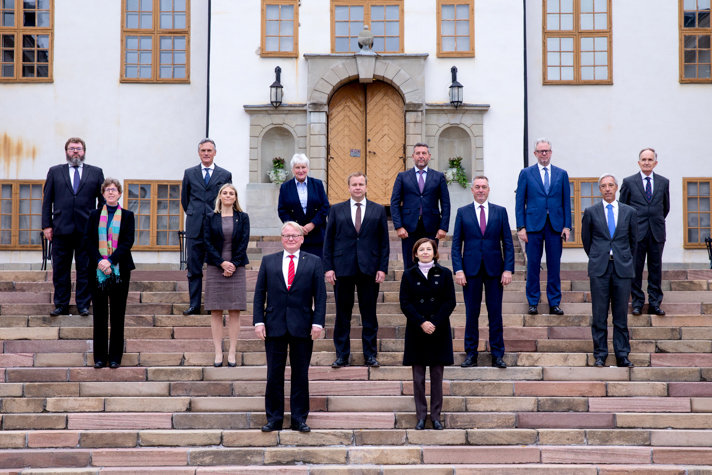 EI2 is a multilateral defence cooperation body with thirteen member countries. The EI2s focus is to bring European countries together to better prepare for possible future crisis' by forming a shared strategic culture. At the meeting, Ministers for Defence or delegation leaders from the thirteen countries discussed current security issues in Europe and beyond alongside with EI2's future development.
"Today we have discussed and shared views on some of the most pertinent and emerging defence and security challenges, including the situation in Afghanistan, Mali and Mozambique. We also discussed the evolving threat of disinformation and ways to develop our fruitful cooperation within EI2", said Mr Hultqvist.
The annual meeting in Stockholm brought together the Ministers for Defence or delegation leaders from Belgium, Denmark, Estonia, Finland, France, Germany, Italy, the Netherlands, Norway, Portugal, Spain, Sweden and the United Kingdom.
At the margins of the meeting, a bilateral agreement on defence cooperation between Sweden and Portugal was signed.
Facts on EI2
EI2 is an independent and flexible forum, strengthening the shared strategic culture between the member countries with the aim of achieving better preparedness for future possible crisis. EI2 does not duplicate activities within the EU and NATO, but are complementary to them.