This content was published in the period between 9 July 2021 and 30 November 2021
Minister for Defence to attend NATO Days in Czech Republic
On 18–19 September, the annual NATO Days and the Czech Air Force Days will be held in Ostrava. For the second time, Sweden will assume the role of Special Partner Nation at NATO Days. Minister for Defence Peter Hultqvist will deliver the opening address at the event and also hold bilateral meetings with the defence ministers from the Czech Republic and, Slovakia.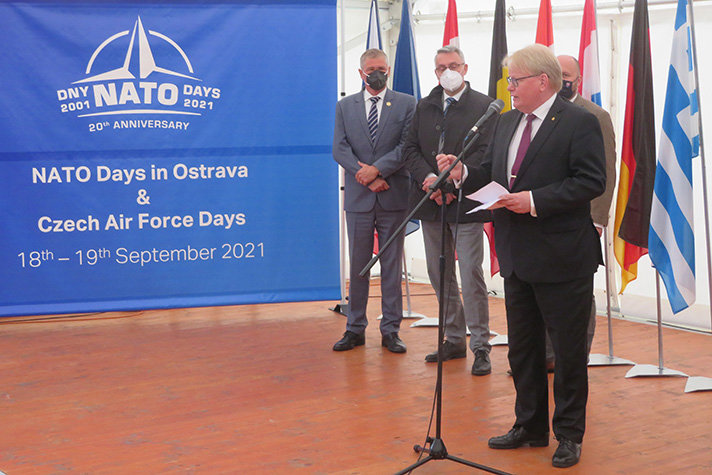 The role of Special Partner Nation (SPN) allows a selected country to give an extensive presentation of its armed forces and its defence industry. Sweden was SPN at NATO Days in 2015 and is the only country to be selected twice for this role.
"NATO Days in Ostrava is an important format for Sweden. I am proud that Sweden is participating as a Special Partner Nation and contributing substantially in terms of number of participants and capabilities from our armed forces and defence industry. NATO Days is an opportunity for our defence industry to showcase its systems and expertise," says Mr Hultqvist.
Sweden will participate in the Czech Air Force Days show with the Gripen, Tunnan, Draken and Viggen aircraft. The Swedish self-propelled mortar system GRKPBV90 Mjölner will also be showcased at the event. In addition to representatives of the Swedish Ministry of Defence, representatives of the Swedish Armed Forces and the Swedish Defence Material Administration will also participate in the events in Ostrava.
NATO Days
NATO Days in Ostrava, together with the Czech Air Force Days, make up the biggest security show in Europe. The events aim to showcase the wide spectrum of resources and capabilities of the Czech Republic and its allies in the field of security provision to the general public.

NATO Days in Ostrava is an event filled with meetings, presentations, workshops and exhibitions of military and security equipment and systems. It will culminate in the main event that will take place at Leoš Janáček Airport Ostrava, Ostrava, the Czech Republic.