Bilateral talks on regional security and visit in subarctic environment when UK Secretary of State for Defence visited Sweden
Regional security and development of bilateral defence cooperation were among the agenda items when UK Secretary of State for Defence Ben Wallace visited Sweden. Bilateral talks with Minister for Defence Peter Hultqvist took place in connection with the visit.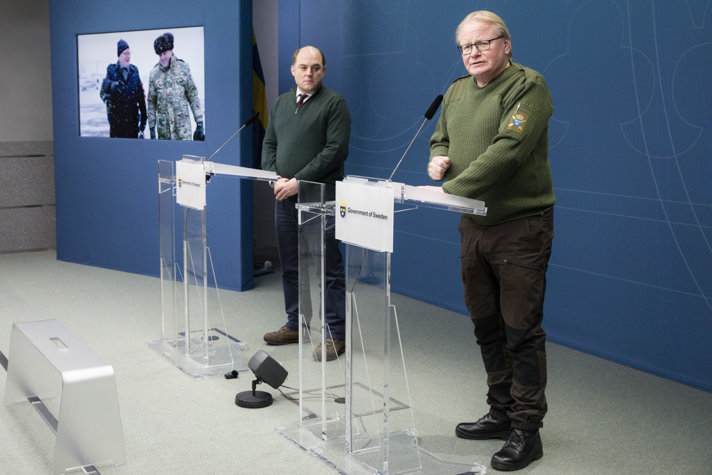 UK-Sweden defence and defence equipment cooperation is extensive and includes bilateral and multilateral forms of cooperation. The two countries enjoy a close relationship that in recent years has intensified, not least through a joint Statement of Intent and the British-led Joint Expeditionary Force (JEF). The JEF is a rapid reaction force made up of northern European nations that can act independently or as part of a UN, NATO or EU operation in the event of a crisis.
"Security and stability in our part of Europe is best built through cooperation with other countries, both in bilateral and multilateral forums. Sweden's far-reaching cooperation with the UK is an excellent example of this. We cooperate in many different areas ranging from the development of defence equipment to joint military exercises," says Mr Hultqvist.
Mr Hultqvist and Mr Wallace held bilateral talks in conjunction with Mr Wallace's visit to Sweden, which included a visit to K4 in Arvidsjaur. They discussed the deteriorating security situation in the Baltic Sea region, developments in the Arctic, international missions in Mali, the JEF and cooperation on the Future Combat Air System.
"We've had a very rewarding meeting and fruitful discussions on the common challenges posed by the security developments in our neighbourhood. In connection with the visit to K4 in Arvidsjaur, we were also able to demonstrate Sweden's military capabilities in a subarctic environment – capabilities that are unique," says Mr Hultqvist.
During his visit, Mr Wallace also met with representatives of the Swedish Armed Forces and the Swedish defence industry.