EU and US stood united for Ukraine at the European Council meeting
The European Council meeting of 24–25 March, one month after Russia began its aggression against Ukraine, focused on the conflict and consequences for the EU. The US President attended the meeting for talks on Thursday evening. On Friday the focus was on Europe's strategic dependence on Russian fossil fuels, the high energy prices in the EU and the green transition.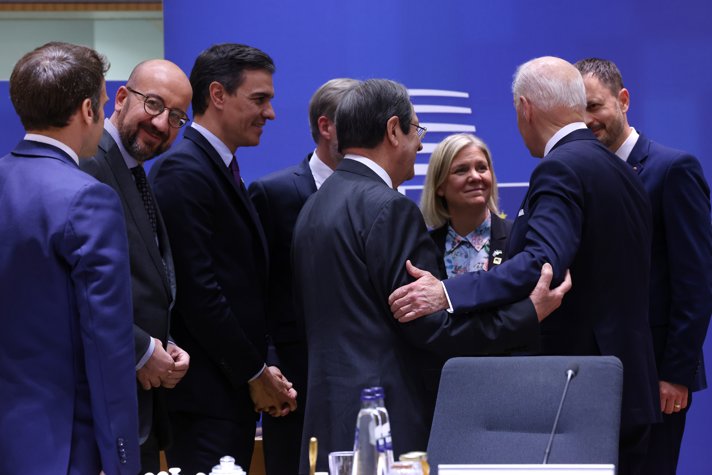 Prime Minister Magdalena Andersson emphasised that she welcomes the US and the EU presenting a united front to bring Russia's aggression to an end.
"President Biden's message to European leaders yesterday was crystal clear. It is through unity and close cooperation that we can act vigorously against Russia's brutal invasion of Ukraine," said Ms Andersson at a press conference in connection with the Council meeting. She also said that she had the opportunity to participate in talks with President Biden, which was not possible for all EU leaders.
"I stressed the importance of continuing to cooperate effectively on the sanctions and continuing to support Ukraine. We also need to prepare for the reconstruction of Ukraine and, not least, we need to collectively step up our efforts to break Europe's dependence on Russian oil and gas," she said.
Ukrainian President Volodymyr Zelensky also addressed the Council meeting via video link. He thanked the EU for supporting Ukraine against Russia's aggression and also appealed for further sanctions against Russia and more support to Ukraine.
Discussions on the second day of the Council meeting focused on how the EU should deal with the rising energy and food prices caused by the conflict. The Council also discussed how the EU can promote the green transition while reducing Member States' dependence on fossil fuels from Russia and other parts of the world.
"Sweden has been pushing these issues for a long time and now we can see growing enthusiasm from the other Member States," said Ms Andersson. "Our future lies in the green transition and the investments we make can also create a significant number of jobs here and now."