Impact of Russian invasion on Swedish companies and foreign trade
In light of Russia's invasion of Ukraine and the following sanctions, the Government is now strengthening preparedness for the Swedish business sector and foreign trade through close dialogue with relevant actors. The economic effects on Sweden are currently limited, but the situation concerning increased energy and oil prices, as well as the turbulent capital market, may deteriorate. There may be quite extensive and serious consequences for the world economy, which is why the Government is closely monitoring developments and is prepared to act depending on how events unfold.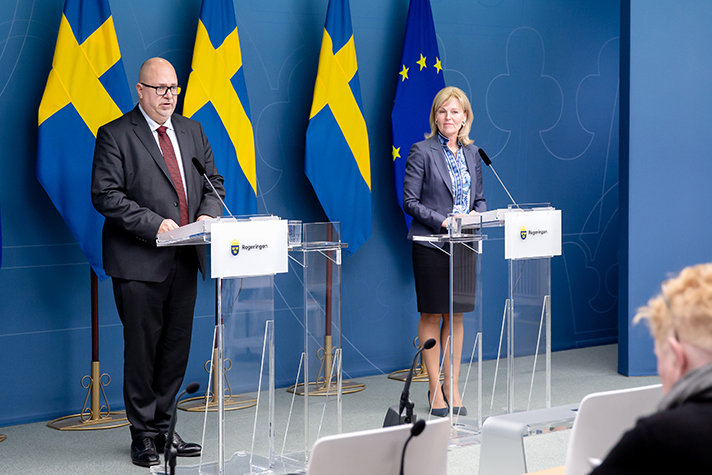 The Russian invasion has led to the most serious security situation since the Second World War and is creating great uncertainty. This is illustrated by reactions in financial markets and by the fact that the price of raw materials such as oil and gas has risen, which affects the Swedish economy. The relevant Swedish government agencies are working hard to support Swedish companies by gathering information on how the sanctions against Russia may affect these companies. This can then be used to help them to navigate and make strategic assessments in this very complex situation.
"We must be prepared for both the short-term and the long-term effects of the developments we are currently seeing. Sweden has very strong public finances and so good opportunities to act if and when necessary – depending on how the situation develops. Let me emphasise that the Government greatly appreciates the work and the major efforts that companies with a presence in Ukraine are making for their staff on the ground. I am proud to be part of a Government that, together with the EU and a host of other countries, stands up for democracy and for the right of each country to determine its own future," says Minister for Business, Industry and Innovation Karl-Petter Thorwaldsson.
As part of the efforts to strengthen Sweden's preparedness, the Government is now establishing closer dialogue with the business sector, trade unions and relevant government agencies to obtain an overview of the situation.
"We hope for a speedy end and a withdrawal, but we must prepare for a protracted conflict that will test us as a country and as citizens, and that will test our business sector. We are not yet able to get a full overview of the effects of the crisis. That is why the Government – and I, as Minister for Foreign Trade and Nordic Affairs – see dialogue with the business sector, trade unions and other countries as crucial – we exchange information, pool our strength and work towards a common goal. We are stronger together," says Ms Hallberg.
Sweden's trade with Ukraine
Some 90 Swedish companies are active in Ukraine and are now being hit very hard by the war. As a result of the invasion, many of the businesses have ceased their activities. The Government is closely monitoring developments and is regularly in direct contact with Swedish companies operating in Ukraine.
Swedish trade with Ukraine is limited and amounts to less than one per cent of Sweden's exports and imports. The current assessment is that disruptions will not have a significant impact on society but that individual companies may be affected in the form of restrictions on input products or reduced sales. In general, the impact on Swedish industry is expected to be more indirect rather than direct, i.e. value chains via other countries.
Sweden's trade with Russia
Russia is no longer an active trading partner of Sweden or of the EU. To date, four massive sanctions packages against Russia have been introduced by the EU and Sweden's partners. Some 500 Swedish companies are active in Russia, including around 20 large companies and 13 400 employees in Swedish groups in the country (figures from 2019).
Trade with Russia has accounted for 1.3 per cent of Swedish exports. Sweden's dependence on Russian imports is also low. One of the reasons for this is that Sweden's energy sources are largely domestic. Sweden also has the EU's lowest dependence on natural gas and so on Russian energy imports. But Swedish companies and consumers may still be affected by increased energy prices and other indirect trade effects.
Regarding the need for companies to find new supplier routes and trading partners, the Government can provide assistance through Business Sweden and Swedish government agencies. Business Sweden is now redirecting its operations to support Swedish companies to leave Russia. The Nordic Council of Ministers has also decided to suspend all cooperation with Russia and Belarus.
New remit to Swedish Defence Research Agency
The Government has now tasked the Swedish Defence Research Agency (FOI) with identifying Russian investments and economic interests in Sweden. The aim is to obtain a clear picture of Russian economic interests in Sweden. This can help to ensure that there is better compliance with the sanctions system, that law enforcement authorities can obtain information for further action and that the relevant companies are made aware of the sanctions.