Peter Hultqvist took part in Bratislava Forum
On 3 June, Minister for Defence Peter Hultqvist took part in a panel discussion at the Bratislava Forum security conference. In connection with this, he also had a bilateral meeting with his Slovak counterpart, Jaroslav Naď.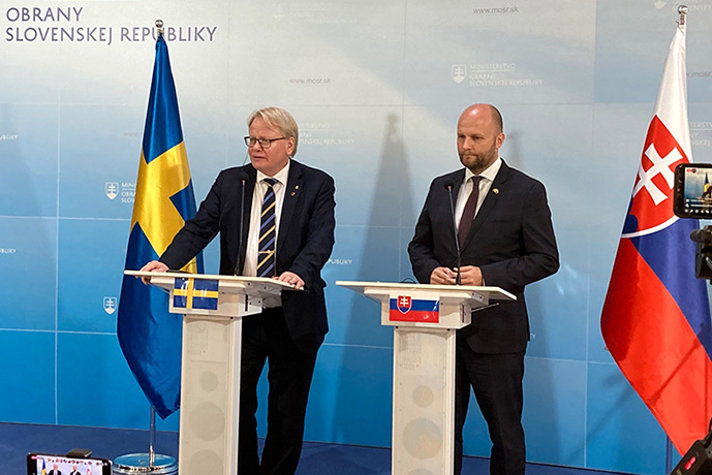 The Bratislava Forum is organised annually by the GLOBSEC think tank in Slovakia's capital. The panel discussion that Mr Hultqvist took part in on 3 June focused on European security.
"Slovakia and Sweden enjoy very good cooperation bilaterally and also in the EU and other international forums. We share the same values on issues such as the importance of democracy and the rule of law, and we condemn Russia's illegal and brutal war against Ukraine," says Mr Hultqvist.
The panel discussion was followed by a meeting with Slovak Minister of Defence Jaroslav Naď. Slovakia is planning to purchase new combat vehicles this autumn, and an evaluation committee of the Slovakian Ministry of Defence has recently recommended purchasing the CV90 vehicle from Swedish Hägglunds.
"I am confident that the CV90 would be a very good solution for Slovakia, and I consider a possible business deal to be a good opportunity to further deepen cooperation between our countries," says Mr Hultqvist.