Joint Expeditionary Force increases its presence in Sweden and Finland
A number of exercises within the framework of the Joint Expeditionary Force (JEF) will be held in Sweden and Finland in the coming months, following the two countries' applications for NATO membership. Minister for Defence Peter Hultqvist attended a JEF exercise at Skaraborg Air Force Wing (F 7) in Såtenäs on 5 July.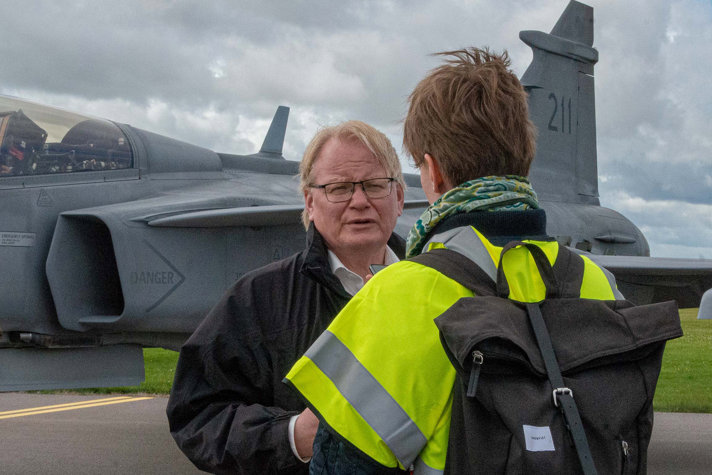 When Mr Hultqvist visited F 7, the exercise was already in full swing. The Swedish and British air forces participated with JAS 39 Gripen and Eurofighter Typhoon fighter planes, conducting combat training based on various scenarios.
This exercise and a number of additional planned JEF exercises in the coming months follow the decision by the defence ministers of the JEF partner nations at their meeting in June to increase JEF presence in the Baltic Sea region while Sweden and Finland wait to become NATO members.
"The JEF contributes to regional security and stability. Joint exercises conducted by the JEF nations, like the one here in Såtenäs, strengthen our ability to operate together in response to a crisis in our neighbourhood. This is particularly important in today's challenging security environment," says Mr Hultqvist.
This is the JEF
The Joint Expeditionary Force (JEF) is a United Kingdom-led framework for a rapid reaction force that can act independently or within the framework of a UN, NATO or EU operation in response to a crisis, with a focus on northern Europe.

The UK took the initiative for the JEF in 2014 and, in addition to the UK, Denmark, Estonia, Finland, Iceland, Latvia, Lithuania, the Netherlands, Norway and
JEF defence ministers meeting in Oslo on 14–15 June