This content was published in the period between 21 January 2019 and 8 July 2021
Ministers on this page who have left the Government
Between 3 October 2014 and 10 September 2019 she was Minister for Foreign Affairs.
Ministers on this page who have left the Government
Between 3 October 2014 and 10 September 2019 she was Minister for Foreign Affairs.
"The EU Eastern Partnership has been a success"
Ten years ago, Sweden, together with Poland, initiated the EU's Eastern Partnership. As the partnership now enters its second decade, it is a good time to highlight three priorities for its future development, writes Swedish Minister for Foreign Affairs Margot Wallström.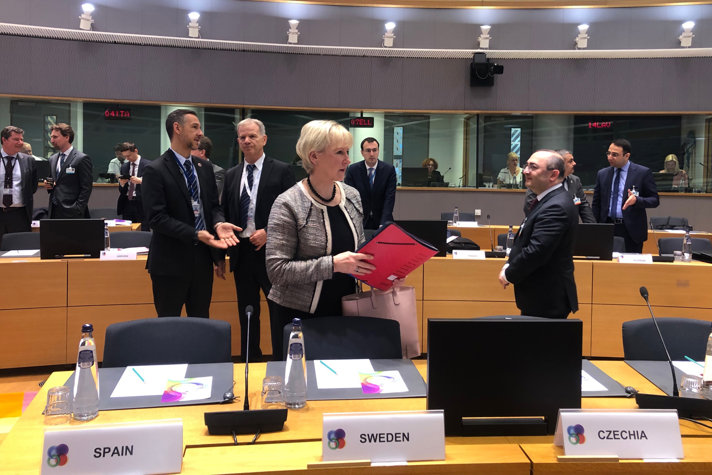 The Eastern Partnership has been a success.
A claim like that is justified on its tenth anniversary because, frankly, the Eastern Partnership has transformed the six partner countries, their relation to the EU and the EU itself. It has brought more extensive change to the region than could have been foreseen ten years ago. In addition, it has created a common EU platform and policy towards its Eastern neighbourhood.
As the Eastern Partnership now enters its second decade, as one of its co-founders I want to highlight three priorities for its future:
1. The Eastern Partnership has always been built on shared values, and so may it continue.
The EU is underpinned by a firm belief in the universality of our indivisible human rights –civil and political, economic, social and cultural, in democracy and the rule of law, as well as a strong commitment to the European security order and every country's right to choose its own path. These are also central to the partnership between the EU and its Eastern neighbours.
Today, some of these values are under pressure globally, and the EU is no exception. It is more important than ever to remind ourselves why, in our history, we fought so hard to gain them.
This means that we will keep pushing for reforms to fight corruption, to increase transparency and to foster social equality. Fighting corruption is not only about preventing the misuse of resources. It is also a matter of strengthening national security.
We will provide more support to civil society actors and professional independent media, and will not remain silent when democracy is eroded. Through such measures, we build resilience in a broader sense.
2. People should always be at the centre of Eastern Partnership policy.
Any political initiative that does not deliver concrete results for people's everyday lives will eventually lose its relevance. The Eastern Partnership must keep on delivering tangible change for the people of the partnership countries.
In this regard, the visa-free agreements with Ukraine, Moldova and Georgia, and Erasmus+ education exchanges are more than just words. To many people, they are essential improvements and concrete symbols of the European future of their home countries.
We need stronger measures for gender equality and young people. Equality between women and men should be placed high on the agenda of all the partner countries. We must invest much more in young peoples' skills, education and vocational training, SME development and their opportunities to create a good future for themselves in their own countries. We need to further strengthen Erasmus+ and to increase links between schools in the EU and in the region.
3. We must accept that development will never be linear.
The six partner countries differ in their reform ambitions and in their perspectives on the EU. It is natural that the EU approach to these countries differs, too. As long as partner countries continue to reform, the EU should continue to support and offer deeper and more extensive cooperation.
Our support to reforms should continue to be based on merit. Such merit is measured by reform progress, political will and ownership – not by words alone. Those who deliver will receive more in return from the EU. Correspondingly, we will respond with less support for less progress when called for.
Similarly, we must develop cooperation with all six Eastern Partnership countries. More can and must be done regionally in Europe – the EU and Eastern Partnership countries together. Such issues include climate change, disinformation, migration and human trafficking.
One final remark: the Eastern Partnership has changed the perspective of the EU. We no longer talk about our Eastern neighbours as post-Soviet states, but as European partners. We no longer define our relations with these countries by the past, but by a common future. This is in itself a great achievement, and the right approach for the years to come.
Margot Wallström
Swedish Minister for Foreign Affairs
The Eastern Partnership
The Eastern Partnership (EaP) is a joint initiative involving the EU, its Member States and six Eastern European Partners: Armenia, Azerbaijan, Belarus, Georgia, the Republic of Moldova and Ukraine.