This content was published in the period between 3 October 2014 and 20 January 2019
Ministers on this page who have left the Government
Between 25 May 2016 and 20 January 2019 she was Minister for the Environment.
Ministers on this page who have left the Government
Between 25 May 2016 and 20 January 2019 she was Minister for the Environment.
Alliance for High Ambition on chemicals and waste launched in New York
Minister for the Environment Karolina Skog has launched an international high-level alliance to mobilise political engagement for more effective global management of chemicals and waste. The aim of the Alliance is to reach a global agreement on chemicals and waste, comparable to the Paris Agreement on climate. The Alliance was launched in connection with the UN High-Level Political Forum (HLPF) on Sustainable Development in New York.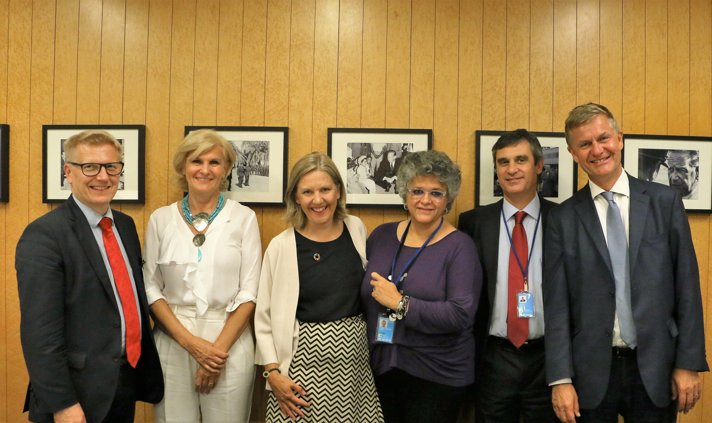 Chemicals and waste pose a growing threat to both the environment and human health around the world. Sweden therefore wants to see a global chemicals and waste agreement, comparable to the Paris Agreement on climate change. In Stockholm earlier this year, Sweden hosted an international meeting on how the countries of the world should manage hazardous chemicals and waste. During the ongoing HLPF, Ms Skog and the Swedish Government are taking the next step by launching an international alliance that will push for a global agreement. This new high-level alliance will provide a platform for ambitious countries to work together to promote and discuss what such an agreement should look like.

"The spread of chemicals and waste is a global problem requiring global action. Thanks to the Paris Agreement, countries around the world are now working together to reduce climate emissions. Similarly, we need global ambitious cooperation to sustainably manage the world's chemicals and waste. Through this alliance, I want to promote collective engagement among my ministerial colleagues and other global stakeholders in order to achieve a global agreement," says Minister Skog.

A number of key countries participated in the launch event in New York: Argentina, Germany, the Netherlands, Finland, Switzerland, Norway, Uruguay, Jordan, Canada, USA and Brazil. Erik Solheim, Executive Director of UN Environment, and Karmenu Vella, European Commissioner for the Environment, also participated in the event.

"Now, the process of getting countries to formally join the Alliance begins, and also our work to deliver results. After today's launch, I am overwhelmed by the great support that the Alliance has already received at this early stage, and I am hopeful for our continued work," says Minister Skog.

Uruguay will act as co-chair in the Alliance, next to Sweden. In addition to government representatives, the Alliance will include representatives from key international bodies, the business sector and civil society.
Press contact
Jakob Lundgren
Press Secretary to Minister for the Environment Karolina Skog
Phone (switchboard)
+46 8 405 10 00