This content was published in the period between
-
Isabella Lövin is no longer a government minister, Minister for Environment and Climate, and Deputy Prime Minister
-
Minister for International Development Cooperation and Climate, and Deputy Prime Minister
-
Minister for International Development Cooperation
-
Gabriel Wikström appointed national coordinator for the 2030 Agenda
The Government has appointed Gabriel Wikström as national coordinator for the 2030 Agenda. The appointment of a national coordinator is part of the Government's work to implement the 2030 Agenda.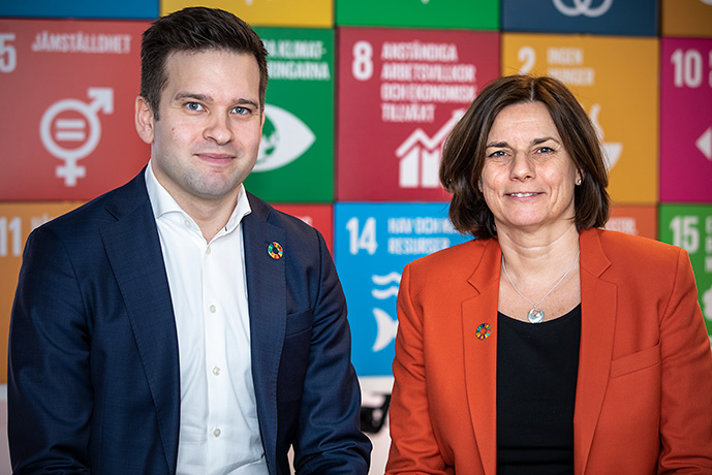 The 2030 Agenda, including the 17 Global Goals, is a plan of action to end poverty and hunger, make human rights a reality for all, achieve gender equality and the empowerment of all women and girls, and ensure the lasting protection of the planet and its natural resources.
"Sweden will be a leader in implementing the 2030 Agenda. We will build a sustainable world for future generations and all actors are needed for the transition to a sustainable society – in Sweden and globally. With his background, Gabriel Wikström has the broad knowledge and understanding that are needed to advance these efforts," says Minister Isabella Lövin.
Mr Wikström has previously been Minister with responsibility for public health and health care issues. He has also been a municipal politician and engaged in youth issues.
"I am pleased and honoured to be able to take on this task. I will work to ensure that the focus on issues concerning the 2030 Agenda is strengthened in our municipalities, regions, business sector, civil society and academia," says Mr Wikström.
As national coordinator, Mr Wikström will work to strengthen, promote and deepen the work of different actors. Joint plans will be developed through collaboration and partnerships between different actors in society. The coordinator's work will focus in particular on the perspective and participation of children and young people, and on those in a particularly vulnerable situation.
Press contact
Anna Söderström
Press Secretary to the Minister for Environment and Climate and Deputy Prime Minister Isabella Lövin
Phone (switchboard)
+46 8 405 10 00
The Government's work on the 2030 Agenda
The 2030 Agenda is a common development and change agenda for the transition to a sustainable society in a globalised world. The Global Goals are integrated and indivisible, and balance the three dimensions of sustainable development: economic, social and environmental.

Before the summer, the Government will submit a bill to the Riksdag setting out the overall direction for Sweden's work on implementing the 2030 Agenda, nationally, at EU level and globally.