This content was published in the period between
-
Speech by Magdalena Andersson at Conference on carbon pricing and aviation taxes
The Hague, 20 June 2019.
Check against delivery.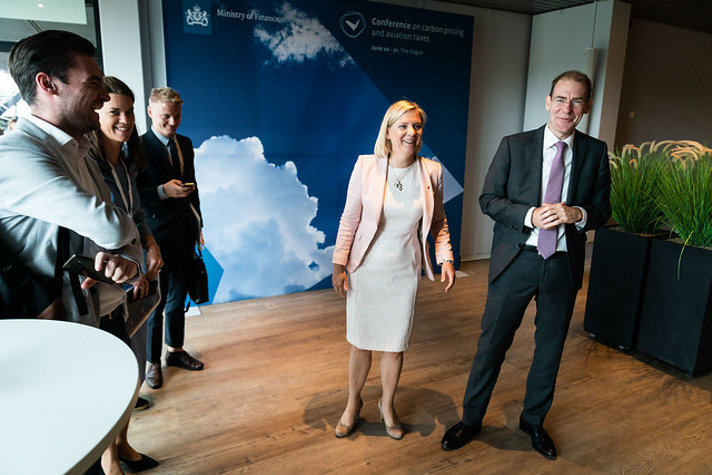 Ladies and gentlemen,
Dear colleagues,
Thank you for the invitation to speak here today. Special thanks to the Government of Netherlands for bringing the climate impact from aviation to the forefront of the international agenda. Thank you for taking initiative to this very important conference. Seeing so many of you here today makes me hopeful of what we can achieve together. Because, as you all know, taxing emissions from international aviation cannot be achieved unless we do it together.
But before we dig into the tool box - why are we here? Why am I speaking to you today? After all, I am a Minister for Finance - not environment. Is climate change important to a Minister for Finance? I am here today, on the brink of our Swedish midsummer festivities, because it is. Let me give you three reasons.
First of all, our children and grandchildren. Greta Thunberg, our Swedish 16-year-old climate activist, has grasped what very many of us adults have not. She calls climate change an "existential crisis" and is urging us to listen to the scientists.
When the young generation is urging leaders of the world to stop ignoring facts, what could be more important? There is still a long line of powerful and influential people who deny the need for change. This may be discouraging, but there is no time to give up. This is what Pope Francis, the spiritual leader of over 1 billion people, did in May when he gathered finance ministers from all over the world. He said to us:
"Time is of essence. We await your decisive action for the sake of all humanity."
His message is loud and clear. We need to take action. Now. And that's why we're here today.
Second of all, we must understand that climate change means huge costs. Human costs for sure, whether they are caused by droughts in Australia, cyclones in Mozambique or fires in Portugal and Greece. But also costs for our treasuries.
I know that for the Netherlands the struggle against climate change has been present and concrete for a long time. The amounts of money you have had to invest in fighting the flooding is something I, as a Minister for Finance, am not envying for a second.
Last year also Sweden got a real feeling of what threat climate change is posing to us. As you may know, summer tourists in Sweden are generally spending their vacation budget on coats and umbrellas. But last summer, we were suddenly experiencing the warmest summer since measurements started 260 years ago. Only kilometres from where I live, woodland caught fire and burnt down as my neighbours and I were standing on the cliffs watching the skilled Italian firefighter planes from EU's Civil Protection Mechanism. The drought continued throughout the whole summer and led to the most widely-spread forest fires in modern times.
All the damage from last summer has cost the Swedish Government over two hundred million euros to relieve local governments and to forest owners for increased costs and to farmers for increased costs and income losses. Money we could have spent on health care and education.
My third reason for being here today, is that Ministers for Finance have the money to invest in actions against climate change. And we need a lot of money – because building a climate-friendly society will cost a lot of money. Because we need to do a lot of investments: to electrify our transports, to have green electricity, to isolate our buildings etc etc
I am part of the "Coalition of Finance Ministers for Climate Action" which was started exactly for this reason. So, for these good reasons, Ministers of Finance should be working hard on replacing fossil fuel in our societies.
But the investments require something else. Something more. It requires financing.
There is only one way to finance these costs created by climate change – this is through taxes. The structural changes that are required to stop climate change will not happen through voluntary contributions or market solutions. We cannot rely on goodwill or corporate social responsibility actions. Or, as the Dutch historian Rutger Bregman said at Davos this year: "Taxes, taxes, taxes, and all the rest is bullshit in my opinion".
Particularly interesting is environmental taxation. Such taxation can serve multiple purposes; it raises revenue for climate investments and at the same time changes behaviour. Market externalities are priced better. A win-win situation.
To put a price on carbon can make people change their behaviour. It may get them to choose wiser.
Carbon pricing also makes investments in biofuels technologies economically beneficial and ensures that fossil fuels are priced fairer and therefore used efficiently. To me, this is also smart economics. The polluter pays principle is favoured by economics. It's a wise principle.
But –in a democracy, we also need to win the hearts of the people. This is very much the case when it comes to environmental taxes. Why, well first because environmental taxes tend to be regressive rather than progressive. Second because it often takes an investment to lower your carbon print. For people with low incomes it can therefore be difficult to participate. Environmental taxes therefore require careful analysis to make sure the consequences are fair.
Sweden has a long and good experience of carbon taxation. We have applied a carbon tax for more than 25 years. I hear that the Netherlands and Germany are discussing a carbon tax. It makes me hopeful. The Swedish carbon tax has been an effective instrument for decreasing emissions of greenhouse gases while maintaining economic growth. The Swedish example shows that decoupling between emissions of greenhouse gases and economic growth is in fact possible. One large adjustment has been to phase out oil heating in our Swedish homes. Carbon tax was one reason. We also introduced an incentive when installing alternative, climate-friendly, heating. And I can assure you, no Swede misses oil heating anymore.
Swedes don't miss it, because we still do heat up our houses in Sweden. Just not using very much oil anymore.
Pollutions by oil heating or driving a car are bad. Pollutions by air plane are worse – since emissions have a doubled effect in high altitude. And still there is no carbon tax for aviation. This is the reason why last year, the expression "fly shaming", in Swedish "flygskam", was acknowledged as a new expression in the Swedish language. It is described as "a feeling of that it, from an environmental point of view, is reprehensible to fly". I am not here to give you (or me!) this. I am here to propose concrete actions – we want the world to be connected. Just not by fossil fuels. That is why we are here today.
So what do we do? Well, we should simply have the possibility to introduce a carbon tax on fossil aviation fuel.
The obstacle that Ministers for Finance all over the world have when it comes to taxation of aviation fuel, is the Convention on International Civil Aviation and the policies of the ICAO connected to this convention.
The convention is old; much older than myself and Greta Thunberg together. It was designed in another time; in a time where the second world war was about to end and aviation was in its cradle. Don't get me wrong, it made sense at the time. Aviation has brought us closer and has been a driver of trade and economic growth. But we now have new challenges.
As I see it, the convention itself is not as big of a problem as the policies from the 90's of the ICAO. These policies are the real problem when it comes to taxing aviation fuel the way we want. Sweden, as well as Norway and the Netherlands and some other countries, have made reservations to the policies. We made reservations because we did not agree with the policies. And our disagreement is even stronger today.
To tax aviation fuel would make a lot of sense. Just as the carbon tax on other fossil fuels. But not only would it address climate change. It would also address imbalances that exists between different means of transportation today, where we have taxes on fuel in our cars – but not in airplanes.
So, in addition to environmental reasons, a tax on aviation fuel would also benefit competition. Because today, all we have is a huge exception for the aviation sector when it comes to fossil fuel. This is a harmful subsidy.
Just like the carbon tax, a tax on aviation fuel would meet the polluter pays principle and raise public funds that could be used for necessary investments, not least in the climate. It would also be easy to administer for both authorities and companies.
A tax on aviation fuel can change people's behaviour. It would be a reminder that what they are dealing with is polluting our climate. And that someone needs to pay for it.
And one of the most important impacts, is that a tax on aviation fuel would stimulate both energy efficiency and the reduction of fossil fuels. Taxing the fossil component of the fuel could also stimulate the much-needed production of bio fuels for airlines.
Since high-income households fly more frequently and longer distances than households with lower incomes a tax on aviation fuel is to a greater extent paid by high income earners.
As I have already said; there are challenges. Let's be clear about that.
If we are going to make progress when it comes to the policies of the ICAO, we are much stronger together than alone. This is part of the agreement that forms the basis for the Swedish Government following last year's election. It seems to me this should be part of the tool-box for the "Coalition of Finance Ministers for Climate Action
But to be honest, this could take time. So what steps can we take in the meantime?
We of course have trading schemes in the form of EU ETS. The EU ETS provides further regulation of flights within the EU but it does not replace the need for taxes. Also, the level of ambition of the EU-ETS needs to be enhanced to ensure that aviation contributes sufficiently to the 1.5 degree objectives of the Paris Agreement.
When it comes to CORSIA, it can only become a relevant policy tool if it is ambitious enough. What is outlined in CORSIA so far is by no means sufficient in order to tackle the climate challenge. Thus, we need stronger actions internationally, bilaterally and nationally.
Since we cannot base our taxation of international aviation on fuel tax yet, several countries have tried other measures. But to tax the aviation sector has been proved very hard. Several countries have introduced aviation tax and then abolished it. It has been hard also in Sweden.
During 2006, when I was State Secretary for taxation, the Swedish government proposed a tax on air travel. But since certain parts of Sweden were to be exempted we needed a state aid approval from the Commission. And before such an approval was obtained we had an election, where my party lost power. And the new government decided not to go ahead with the tax.
Then in 2017, now as a Minister of Finance, I started to work on that tax again. During these discussions there were even threats from the political opposition to carry out a vote of no confidence against myself in parliament if we went ahead with the tax. We did anyway, and it was introduced.
Then we had elections again and it was close to being abolished but earlier this week Parliament confirmed that it stays. So, both I and our aviation tax are still going strong.
And now, public opinion polls even show a majority approval of the Swedish aviation tax. People seem to be ok with paying a few more euros when they buy their ticket. And perhaps some of them choose to take the train instead.
The tax is an important signal to our citizens that we need to phase out fossils fuels and that every sector needs to take its responsibility. Even if the tax is not high, it is a nudge from the state that if you can choose some other mean of transportation, please do so. If you don't, we want you to pay for your emissions.
From MY perspective, as the Minister for Finance, the tax on air travel is a well-motivated source of money and since the airline that carries out the flight is liable to the tax, it is easy to collect.
If we are going to be serious about the Paris agreement, and we are, it is obvious that no sector can be totally without economic measures and in that sense not paying for at least a part of their climate costs. To all of you who don't tax air travel I, can just say that it works for us.
The tax on air travel in Sweden now stays. But this is not our preferred option, because it would make much more sense to actually tax the fuel and the emissions than to tax the journey itself.
So, one way that is taking this further while we are working on a global change of the ICAO policies, can be agreements between EU member states on taxing aviation fuel. This is explicitly allowed according to the EU energy tax directive.
I can see bilateral agreements as a way forward or why not a convention for more and more member states to enter into?
This way we could to provide good examples to show that this is possible. Agreements on taxation have worked well in other areas. One example is heavy goods vehicles where Sweden and the Netherlands are working together with Denmark and Luxembourg. We have a common system for levying taxes and sharing costs. Before it was introduced, many people who said it was not realistic to levy tax this way. This is now a stable system that has been running for a long time.
Maybe it's time to start discussing if we could do something similar when it comes to aviation.
This is one of the things I hope you will discuss during this conference.
To wrap this up: US Supreme Court Justice Oliver Wendell Holmes Jr stated in 1927: "Taxes are what we pay for civilized society". In a civilised society we have to address the consequences of climate change. For this, we need Ministers of Finance that take responsibility. In a preventive way, through environmental taxes, investments to replace fossil fuel and adjustments that will protect us better through extreme weathers. But also, that are ready when there is an emergency.
This is the most fundamental issue for our generation. This is what our youngsters urge us to do. This is what we owe them.
We need to fill up the tool box for aviation taxation and it is urgent. Let's get to work.