This content was published in the period between
-
Isabella Lövin is no longer a government minister, Minister for Environment and Climate, and Deputy Prime Minister
-
Minister for International Development Cooperation and Climate, and Deputy Prime Minister
-
Minister for International Development Cooperation
-
Speech by Minister for the Environment and Climate Isabella Lövin at COP 25
Madrid, Spain 2019-12-10
Check against delivery.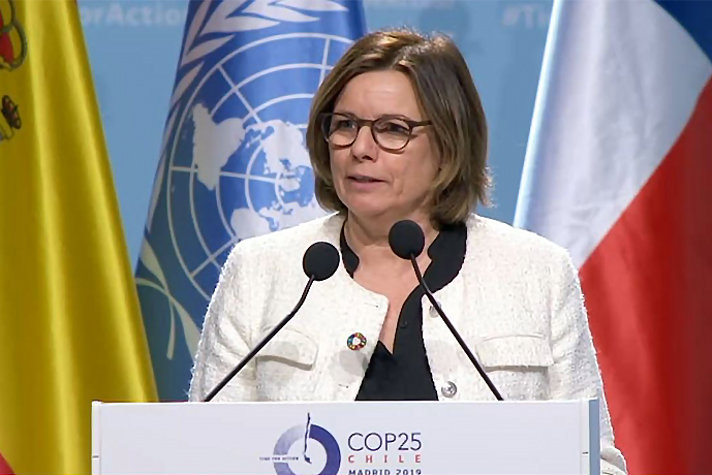 Excellencies,
Natural disasters are pestering our planet, more and more frequently, and more and more violently.
Just recently, we have seen violent flooding here in Spain. In Venice. In Kenya and all over East Africa where hundreds of people tragically have lost their lives. The past year hurricanes have demolished the Bahamas, and Mozambique, and historic wildfires have ravaged California and Australia – and - not least -marine heatwaves have killed coral reefs and life under water.
We see what´s happening.
We hear the calls for action, from the youth movement, and from all the sectors of society that committed to action at the UN Climate Action Summit. And from the scientists.
Dear world. We must act on science and facts. Anything else would be complete irresponsibility, or total immorality.
It´s really not that difficult. Let's just understand one simple fact: getting out of fossil fuels is not a sacrifice; it´s the salvation of our planet, and of people living here now, and of all future generations.
The time to act is now. I am going to outline four key areas where I expect us all to act:
First, we need to enhance ambition. Our current pledges are far from sufficient, they will lead us to at least three degrees, not 2 or 1,5 .
Secondly, Article 6 can play a key role to reduce global emissions. It is essential that the rules we decide on ensure the highest possible integrity. We simply cannot afford to register emissions reduction on paper, if they are double-counted and not reduced in reality.
Thirdly, we must respond to climate change in a more integrated way and find synergies between reducing emissions, protecting biodiversity and improving ocean health. This should be reflected in the decisions at this Blue COP.
Lastly, as we move from words to action, it is time to incorporate the Paris goals into our national laws, policies and programs. In Sweden we have begun our journey with a climate law obliging us to reach net-zero emissions by 2045 at the latest. And Sweden will continue supporting developing countries and we have doubled our contribution to the Green Climate Fund.
The world and our very own children are calling upon us to act. No one can do it alone. But if we all work together we can do it. Let this be the Cop where leaders show the world we are determined to do it here, now, and without any hesitation. Let's just do it!