This content was published in the period between 9 July 2021 and 30 November 2021
Ministers on this page who have left the Government
Between 3 October 2014 and 30 November 2021 he was Prime Minister.
Ministers on this page who have left the Government
Between 3 October 2014 and 30 November 2021 he was Prime Minister.
Speech by Prime Minister Stefan Löfven at UN Climate Change Conference COP26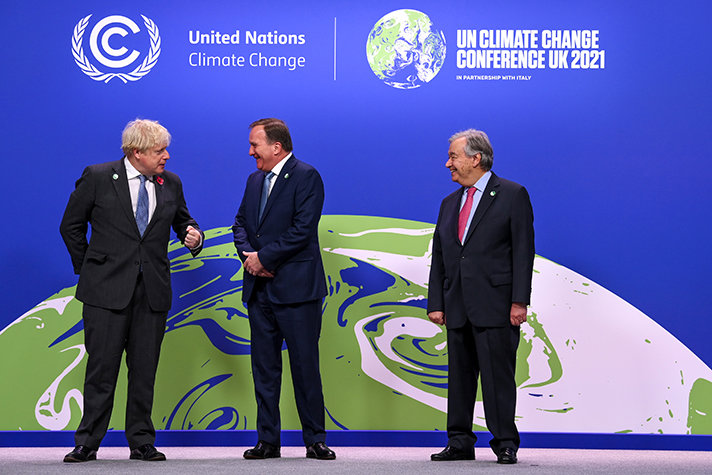 Check against delivery.
Excellencies, Ladies and Gentlemen
All of you are well aware of the urgency of climate change.
We have all agreed to limit global warming to 1.5 degrees.
The science is clear.
All actors must raise their ambition. Now. And that also means finalising the Paris rulebook here in Glasgow.
In the EU, we will cut emissions by at least 55 per cent by 2030.
Sweden committed in 2017 to become the first fossil-free welfare nation by 2045. We intend to keep that promise.
***
The countries that are able must pave the way.
In Sweden, we are presently undergoing a transition to net zero that goes hand in hand with growth, job creation and the rise of a stronger society where no one is left behind.
It takes political will to make it happen. It also takes a strong innovation climate and a work force secure enough to transition to new green jobs.
We have implemented stricter legislation to set out stable and predictable rules.
We have invested in education and reskilling.
We have enhanced partnerships across sectors,
And we are now seeing a massive transformation:
- Fossil-free steel production;
- The emergence of circular business models;
- An electrifying transport sector;
- And an energy system rapidly converting to renewable sources.
My message is this: The climate transition is not only possible, it also brings enormous opportunities with it. Opportunities to build better societies. But only so if we ensure that the creation of a sustainable world is a just process, benefitting everyone.
***
As we embrace the green transition, we must ensure that all countries can be part of it. We have a goal of 100 billion US Dollars in climate financing. I urge all countries to deliver their fair share.
Sweden recently announced a doubling of our climate finance to USD 1.75 billion in 2025.
We will continue to respond to developing countries' priorities, allocating roughly half of our bilateral climate finance to adaptation.
***
To further strengthen our multilateral actions on climate and the environment, the Stockhom+50 conference in June next year can serve as a follow-up to COP26. A chance to reinforce initiatives on the road to COP27 and beyond.
But first: let's make this conference a success.
Let's deliver on our commitments.
And let's help each other.
Thank you.