Article
SMOCS converts contaminated dredged sediments into sustainable building material
Sustainable enlargement of ports by converting contaminated bottom sediments into construction material. This is what has been accomplished in Swedish and Finnish ports by the SMOCS project, which is being conducted within the framework of the EU Baltic Sea Strategy with funding from the Baltic Sea Region Programme 2007-2013. And its methods are now being spread to other parts of Europe.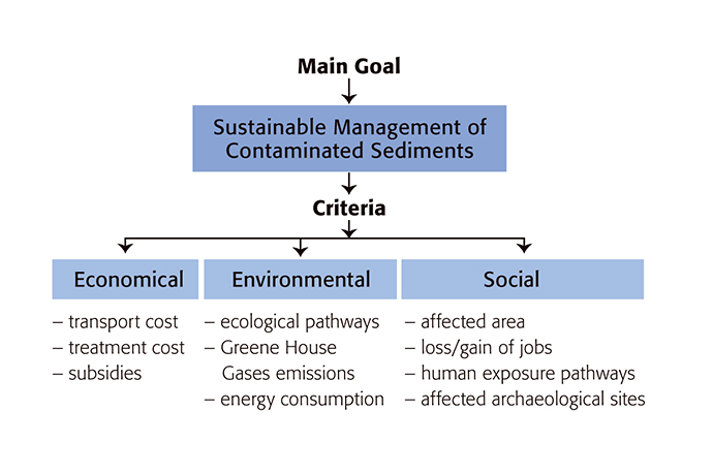 The SMOCS (Sustainable Management of Contaminated Sediments) project started with an idea for how, starting from a sustainability perspective, it could be possible to manage, and also reuse, contaminated dredged sediments in ports. It was Göran Holm of the Swedish Geotechnical Institute and Bo Svedberg of Luleå University of Technology who saw a possibility of chemically binding contaminants in bottom sediment that was to be dredged, and at the same time making durable construction material out of it.
"Industrial emissions of heavy metals such as lead, mercury and cadmium, as well as organic pollutants such as PAHs and PCBs, have contaminated the bottom sediments of many Swedish ports. We wanted to see whether mixing the contaminated bottom sediments with cement, granulated blast-furnace slag and fly ash would chemically immobilise the contaminants, while making the sediment hard and strong," says Mr Holm.
"In this way we could solve several problems in a single process that would achieve environmentally, economically and socially sustainable management, and also reduce the use of finite natural resources when enlarging ports," he explains. "The alternative - depositing the dredged sediments on land - usually costs around ten times more than our method."
Funding from the Baltic Sea Region Programme
Göran Holm and Bo Svedberg felt that they had an interesting idea, but at that point it was just a hypothesis. To see whether it was truly feasible, they first needed funding to devise a model and test it. They therefore applied to the EU Interreg programme 'Baltic Sea Region Programme 2007-2013' and received financial support amounting to 75 per cent of the project costs. The project's ten partners covered the remaining amount. The work could therefore begin.
Free accessible guidance for future work
SMOCS' funding covered the period 2010-2012, and after several years' work, the project's conclusion date approached. It was time to put the idea into practice. The media, public authorities, entrepreneurs, consultants, universities and the public were therefore invited to field tests in the Port of Gävle in Sweden and the Port of Kokkola in Finland.
After demonstrating the process under real conditions, several workshops were held to collect feedback. A guideline was then prepared which SMOCS made freely available on its website for anyone interested in carrying out similar projects.
Network with Channel region project
Work on applying this stabilisation/solidification method has continued in places such as Västerås, Köping and Oskarshamn in Sweden, and in ports in Poland, France and the Mediterranean region. This has also led to contact between SMOCS and the similar SETARMS (Sustainable Environmental Treatment and Reuse of Marine Sediment) project, which operates in the English Channel region.
"We continue to meet every year within the framework of the SMOCS/PortInfra network. This network will continue for another five years, and also expand cooperation to other port issues. The participants are active and it is a very good forum for exchanging ideas and also sharing outcomes that can inspire similar sustainability efforts in many other places," says Mr Holm.