Martin Lundstedt is a new member of the National Innovation Council
Martin Lundstedt has been President and CEO of the Volvo Group since 2015. He holds an MSc in Engineering and has previously served as CEO of Scania. Since the beginning of this year, he has also been a member of the National Innovation Council. He is passionate about continuously improving and developing businesses and creating system solutions.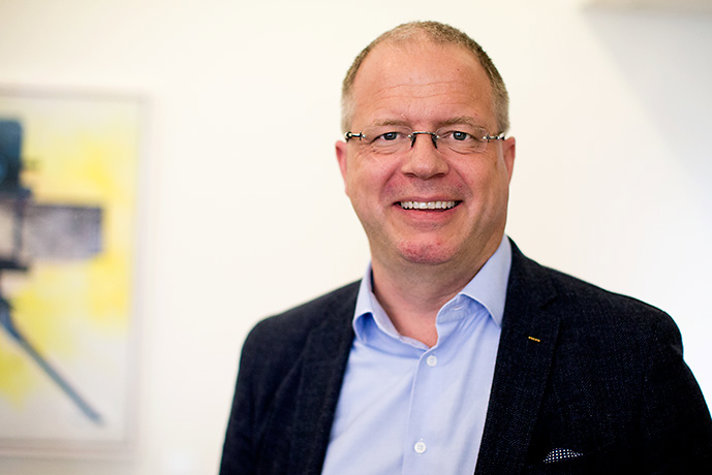 What do you want to bring to the work of the National Innovation Council?
I would like to bring insights into the challenges the Volvo Group faces as one of the world's largest manufacturers of commercial vehicles. Although most of our research and development takes place in Sweden, the Volvo Group is a global company with production in 18 countries and sales in over 190 markets. We operate in an industry that is facing a major transition and in which the demand for innovation is very high. To be competitive, we must constantly develop new innovative transport solutions and business models, and we must advance the development of future production.
How do you think the National Innovation Council can help develop Sweden's innovation capacity and competitiveness?
I think it is an advantage for Sweden if the Government and the business sector have the same view of reality. This means that decisions can be more fact-based and we can all pull in the same direction, in the best interests of society. The National Innovation Council offers a good platform for exchange of experience and dialogue, and it also paves the way for concrete measures and decisions to strengthen Sweden's innovation capacity.

One item on the agenda of the meeting on 15 May is about Sweden as a fossil-free welfare nation and how to make this transition. What innovative solutions do you think are needed to reduce emissions, not least in the transport sector and in industry?
The automotive industry is an industry that invests a great deal in research and development and that is facing a paradigm shift; electromobility, automated driving and an increasingly connected logistics chain will result in a more efficient and sustainable transport system. Achieving this requires the Government, business and academia to work together. This is where I think the FFI programme (a partnership between the State and the automotive industry on the joint financing of RD&I activities) has helped to build networks that enable Sweden to translate research into public benefit. Another prerequisite is large-scale demonstration projects to evaluate new technology.
Essential to achieving the transition is that all actors move in the same direction; a vehicle supplier cannot transition to fossil-free fuels on its own. A major challenge is access to fossil-free fuels. Supply is currently limited so we need to use a range of fuels and primary products and prioritise energy efficiency at all stages.

Do you have any issues that are particularly close to your heart that you want to include in the ongoing work of the Innovation Council?
I am passionate about continuously improving and developing businesses and creating system solutions. Continuous improvements are also a good way of streamlining and developing innovative solutions for production and the entire logistics system. I want to create environments in which people reach their full potential, where they can develop, have fun and create value for companies and society in general. I am also passionate about developing Sweden as an innovative home port to reach the global market. This is why we, as a small economy, have to promote free trade, invest more in education and research, and collaborate more throughout the value chain to increase productivity and build global competitiveness.