Article
Sweden leads transition to fossil-free Europe by 2050
What is needed for the EU to achieve net zero greenhouse gas emissions by 2050? This question was the focus of a seminar at the Permanent Representation of Sweden to the European Union on 4 June, attended by Swedish experts and industry representatives.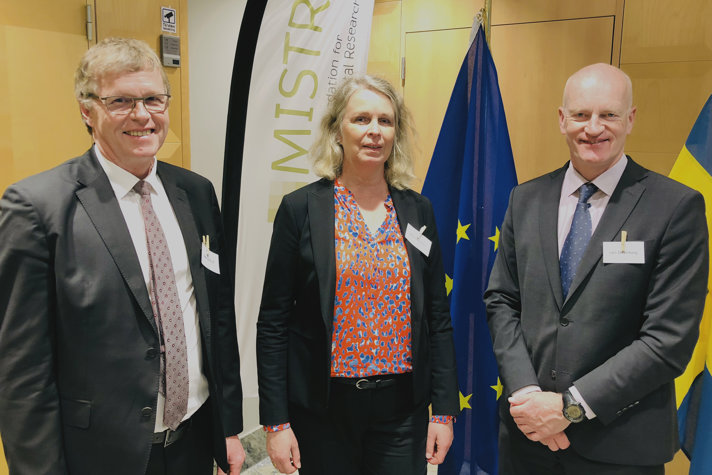 - We have left the 'if' stage behind us. The question we now need to address is 'how', and in this regard the EU must show global leadership, said Ambassador Åsa Webber, when opening the discussion.
Lars Zetterberg, expert at the Swedish Environmental Research Institute, IVL, and manager of the Mistra Carbon Exit research programme, gave his view of what is required to achieve Sweden's carbon-neutral commitment by 2045. In this respect, Sweden has both advantages and challenges.

- All sectors must undergo a transformation. It is promising that much of the technology we need to achieve a climate-neutral society is known today and that there is a strong willingness among Swedish companies, for example in Sweden's carbon dioxide-heavy steel and cement industries. But what companies need are better commercial incentives, stressed Mr Zetterberg.
Mr Zetterberg also commended the progress on the reformed Emissions Trading System (ETS), but was clear that this alone was not sufficient to achieve the desired results.
Anna Kramers, researcher at KTH Royal Institute of Technology and head of the Mistra Sustainable Accessibility and Mobility Services, SAMS, research programme, presented research on new models for accessibility and more efficient use of vehicles and existing infrastructure to contribute to reduced emissions. Integrated solutions for transport and mobility play a decisive role in this regard, for example in ticket payment systems and cooperation between municipalities and companies on concrete solutions.
Svante Axelsson, national coordinator of the Government's Fossil Free Sweden initiative, described their success in getting Swedish companies to join the initiative and how phasing out fossil fuels is increasingly viewed as a competitive advantage rather than a cost.
- In Sweden we've been able to show, for instance, that electricity prices have fallen while we've been phasing out fossil fuels. Perceptions and attitudes have changed. Relations are good between stakeholders and we're now working to design an informal contract between us and produce proposals for the Government, said Mr Axelsson.
The seminar concluded with a panel discussion, including participants from other EU countries, business, the European Commission and expert climate change organisations. Several panellists highlighted the value of the Swedish examples, calling for a clear and coherent EU policy.
The seminar was organised by the Swedish Foundation for Strategic Environmental Research in cooperation with the Permanent Representation of Sweden to the European Union.