Civil society – an actor for democracy and poverty reduction
What is good support to civil society was the theme of a seminar hosted by the Permanent Representation of Sweden to the EU in Brussels on 4 March. Experiences, opportunities and new plans to support civil society were in focus. The seminar was the first in a series of three that the Permanent Representation is launching within the framework of the Government's Drive for Democracy.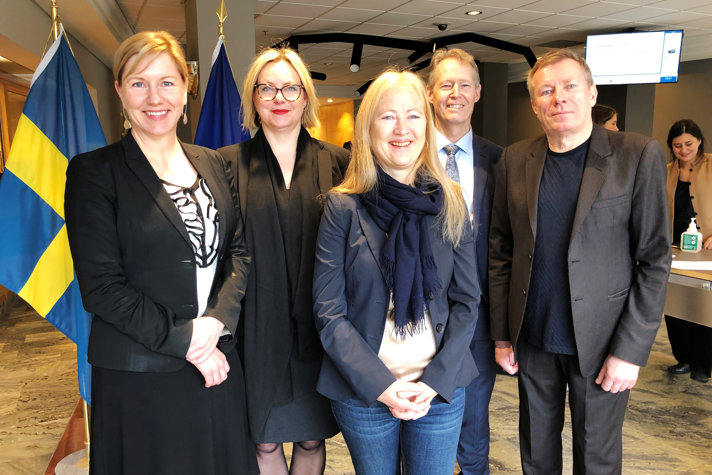 The Government's Drive for Democracy
"Working to strengthen civil society is especially important in the current situation, when democracy is being challenged in more and more countries and many organisations are being subjected to threats and pressure or restricted in their work through new and tougher laws."
These were the words of Alan AtKisson, Director of the Department of Partnership and Innovation at the Swedish International Development Cooperation Agency, Sida, who took part in the seminar discussion on opportunities and challenges in work to strengthen civil society.
Supporting and strengthening this work is one of the priorities of the Government's Drive for Democracy. The key role played by civil society organisations also means that they are also natural actors in work on development and aid. This explains why more than SEK 10 billion – almost 40 per cent – of the aid Sida dealt with last year went to support civil society organisations in Africa, Asia, Latin America and Eastern Europe.
Effective support
Sida often provides support that runs over several years and goes to all the activities of partner organisations. Sida also helps organisations to develop themselves and become more open, accountable and democratic.
"Our experience is that this is an effective way of supporting civil society. It strengthens its own ability and makes it possible to adapt activities to new demands, challenges and opportunities," said Karin Fällman, Head of Civil Society Cooperation at Sida.
Increased collaboration with the European Commission
The European Commission plans to strengthen its collaboration with civil society, including in the area of aid. This will involve a stronger and more systematic dialogue with representatives of civil society in developing countries and more support to local organisations.
"So far we have drawn up plans for collaboration with and support to civil society in 107 countries – but we can and want to do even more. Hearing about Sweden's experiences is good and we would like to work together more," said Marlene Holzner, Head of Unit for Civil Society Organisations and Foundations at the European Commission Directorate-General for International Cooperation and Development, DG DEVCO.
The EU Member States and the European Commission together stand for more than half of all global aid. This makes the EU the world's largest aid donor.
Civil society has an important role to play in a society's development. It contributes to democratic development, respect for human rights, reduced poverty and support in humanitarian disasters.
Civil society is made up of individuals, groups and organisations working together for common interests. It includes popular movements, women's groups, environmental movements, cooperatives, religious communities, trade unions and various associations.
Caption: Representatives of civil society, Sida and the European Commission shared their experiences at the seminar. Karin Fällman, Head of Civil Society Cooperation, Sida; Marlene Holzner, Head of Unit for Civil Society Organisations and Foundations at the European Commission, DG DEVCO; Sascha Gabizon, Executive Director, Women Engage for a Common Future; Alan AtKisson, Director, Department of Partnership and Innovation, Sida; and Hans Lind, Senior Adviser, We Effect.
More about the Swedish Drive for Democracy
Swedish International Development Agency, Sida