Strategy for Sweden's Cooperation with the World Bank Group 2016–2018
Reference No.: UF2015/01035/UD/MU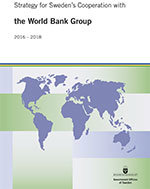 This strategy will form the basis of Sweden's cooperation with the World Bank Group (WBG). The strategy will also guide Sweden's positions in negotiations on the replenishment of IDA181 which will be ongoing throughout 2016.
Download:
The outcome of the negotiations will be important for how the WBG contributes to the implementation of the 2030 Agenda for Sustainable Development and its global goals which were adopted in September 2015.
The strategy applies during the period 2016–2018 and covers funds in accordance with the Riksdag's authorisation. The strategy is based on the Policy for Global Development (Govt Bill 2002/03:122) with its overarching objective of contributing to equitable and sustainable global development, and the Government's strategy for multilateral development cooperation. The organisational assessment of the WBG approved by the Government Offices (Ministry for Foreign Affairs/Ministry of Finance) in January 2015 also forms part of the basis
for the strategy.