Prime Minister Ulf Kristersson's address to the nation
Address to the nation by Prime Minister Ulf Kristersson following violent incidents in the country, Stockholm, Thursday 28 September 2023.

Check against delivery.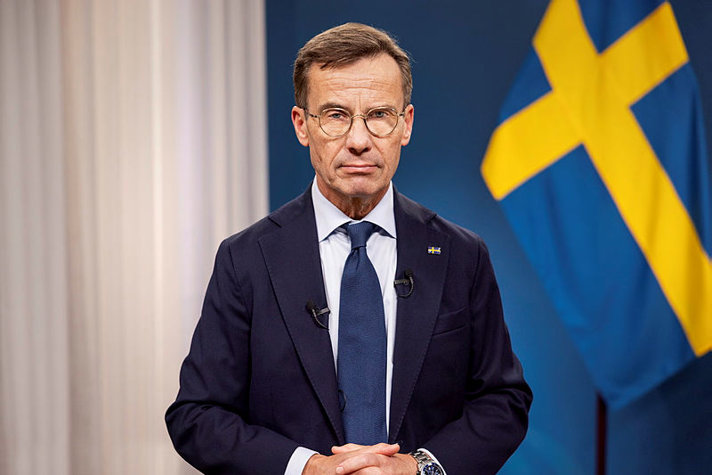 It is a difficult time for Sweden.
Yesterday evening – a perfectly normal evening – a 25 year-old woman went to bed and never woke up. She was killed in an explosion in Uppsala this morning. My thoughts go out to her and her family.
A week ago, a 70 year-old blind man went to a pub in Sandviken to meet his friends. He never came home – he was shot dead. My thoughts also go out to him and his family.
And my thoughts go out to the young man in Uppsala who was murdered in a stairwell early one morning two weeks ago, on his way to work in home-help service.
My thoughts also go out to the three children – aged 13, 14 and 14 – found executed in woods outside Stockholm. Their parents have been forced to live every parent's worst nightmare.
More and more children and innocent bystanders are falling victim to this serious violence. I cannot overemphasise the seriousness of the situation. Sweden has never seen anything like it before. No other country in Europe is seeing anything like it.
The worst affected are those living in socially disadvantaged areas. Honest people, parents doing the right thing but living in dread that their children will be lured in by gangs promising money, watches and cars. Business owners being robbed on a daily basis but not daring to report it.
Everyone who wants to tell the police about the gangs' reign of terror but does not dare to – out of fear for their own lives and those of their children. All of them – all of you – should know that I am on your side. We are on the same side.
We will hunt these gangs down, and we will defeat them. We will bring them before the courts. If they are Swedish citizens, they will be locked up for a long time. If they are foreign nationals, they will also be deported.
What has caused all of this? How did it get to this point?
The fact is, many of us saw it coming and gave warning. Serious organised crime has been emerging for more than a decade. Over a ten-year period, gun violence has increased threefold.
Political naivety and cluelessness have brought us to this point. Irresponsible immigration policy and failed integration have brought us to this point. Exclusion and parallel societies feed the criminal gangs, providing space for them to ruthlessly recruit children and train future killers.
Swedish legislation is not designed for gang wars and child soldiers. But we are now changing that.
The Government is overhauling migration policy. These are tough and difficult decisions. But they are necessary, and we are already seeing results. While immigration to Europe is increasing, immigration to Sweden is decreasing.
The Government is overhauling criminal policy. On Sunday, new legislation enters into force allowing preventive surveillance. This means that police will be able to intercept gangs' communications and stop them before they commit crimes.
As of 1 July, sentences for offences committed in criminal networks have been doubled – and we have made it a criminal offence to recruit children. We have doubled the sentences for serious firearms offences and offences involving explosives. From 1 January, security guards will have new powers to assist the police.
We will introduce stop and search zones to enable police to confiscate firearms and explosives from criminals, and we will introduce anonymous testimony to enable ordinary people to dare to testify.
We will introduce sentences with extended parole ineligibility to ensure that criminals who pose a serious danger to society are never released. And we will expel aliens who associate with criminal gangs – even if they have not yet been convicted of any crime.
We will learn from other countries. Last week, I met the Mayor of New York City to see what they do. Camera surveillance. Facial recognition. Weapon detectors. Sweden must also try these methods.
We are stepping up crime prevention. Current policy has clearly not worked, and we are therefore overhauling it. We will eliminate the secrecy between the police, social services and schools so that they can share information with each other, about every at-risk young person.
This will mean that children and young people can be identified in time – before they start carrying weapons. We will build young offenders institutions so that young people are separated from adult offenders. We will ensure that all children learn Swedish, through language screening and catch-up schools in socially disadvantaged areas.
We will invest the necessary resources. All options are on the table: within the scope of both existing legislation and legislation that must be rapidly amended.
I have summoned the National Police Commissioner and the Supreme Commander of the Armed Forces to meet with me tomorrow to see how the Swedish Armed Forces might assist the Swedish Police Authority in the efforts to stop criminal gangs.
I hope that all of the parties in the Riksdag will now come together to support the forceful and pattern-breaking measures that are needed.
Finally, I would like to thank all of you who work day and night hunting down and arresting dangerous criminals, investigating crimes and bringing criminals to justice. And I would like to thank all of you working in social services and schools, helping children to walk the right paths in life when the right support is lacking at home.
For me and the Government, there is no more important task than keeping the Swedish people safe. We will do all that is necessary to restore safety and security in Sweden.