This content was published in the period between 3 October 2014 and 20 January 2019
Ministers on this page who have left the Government
Between 3 October 2014 and 30 November 2021 he was Prime Minister.
Ministers on this page who have left the Government
Between 3 October 2014 and 30 November 2021 he was Prime Minister.
The humanitarian catastrophe in Aleppo dominated the EU leaders' summit
The war in Syria and the terrible humanitarian situation in the city of Aleppo was one the main issues when the EU's 28 heads of state and government met in Brussels on 15 December. The European Council decided to increase pressure to try and ensure the evacuation of civilians and the protection of hospitals and ambulances. The EU leaders also reached an agreement that will enable the Netherlands to approve the Union's trade agreement with Ukraine. Migration, defence, economic and social issues, and future negotiations with the United Kingdom were also discussed.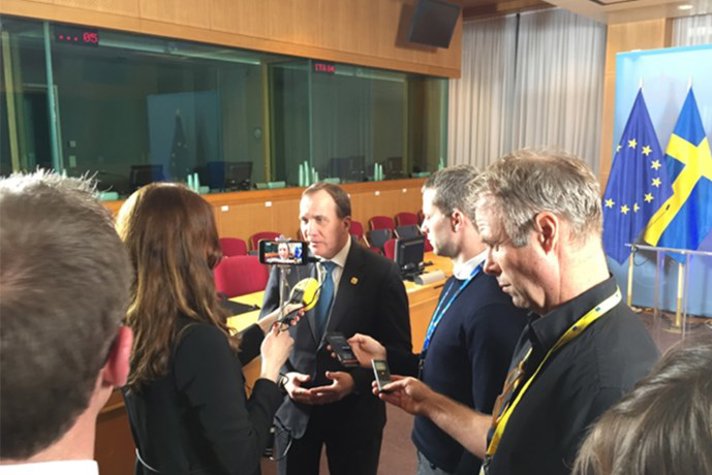 Syria
In a joint statement, the EU heads of state and government condemned the continuing attacks against Aleppo carried out by the Syrian regime and its allies, in particular Russia and Iran. The statement urges Syria, Russia and others involved to allow the evacuation of the inhabitants of eastern Aleppo, to offer immediate and unconditional help and protection to all inhabitants of eastern Aleppo, and protection for all medical staff and all medical facilities throughout the country.
"We must do all we can to save lives and work to ensure humanitarian access to all areas in Syria," says Prime Minister Stefan Löfven.
Ukraine
The EU leaders reached an agreement that will ensure that the Netherlands can sign the EU's cooperation agreement with Ukraine. The statement confirms what the agreement does not deal with; for example, that it does not mean Ukraine becoming a candidate country or that the EU countries are to provide it with military support.
Migration
The heads of state and government confirmed that they still support the EU's refugee agreement with Turkey. Moreover, they welcomed the migration packages with five African countries that will reduce the number of migrants coming to Europe. More similar agreements may be reached with other countries. The Member States' migration ministers are urged to agree on a new asylum policy by June 2017.
Security and defence
The heads of state and government also agreed that the EU must take a greater responsibility for its security. This means that they want to see more cooperation on defence materiel and an annual review of defence in the Member States.
Economic and social issues
The conclusions welcome the extension of the European Fund for Strategic Investments (EFSI) and the continuing efforts to remove obstacles from the common internal market.The EU's Youth Guarantee should be extended.The banking union should be completed.
Brexit
When the United Kingdom has submitted its application to leave the EU, the European Council will adopt guidelines and standpoints ahead of the negotiations. These will be discussed and updated at regular intervals. Michel Barnier was confirmed as the EU's chief negotiator.