This content was published in the period between 3 October 2014 and 20 January 2019
Ministers on this page who have left the Government
Between 3 October 2014 and 30 November 2021 he was Prime Minister.
Ministers on this page who have left the Government
Between 3 October 2014 and 30 November 2021 he was Prime Minister.
Migration, a digital Europe, security and defence on European Council agenda
Migration, digital issues, security and defence will be on the agenda as Prime Minister Stefan Löfven meets his European colleagues in the European Council on 19–20 October. On the second day of the Council the heads of state and government will discuss the negotiations on the UK's exit from the EU.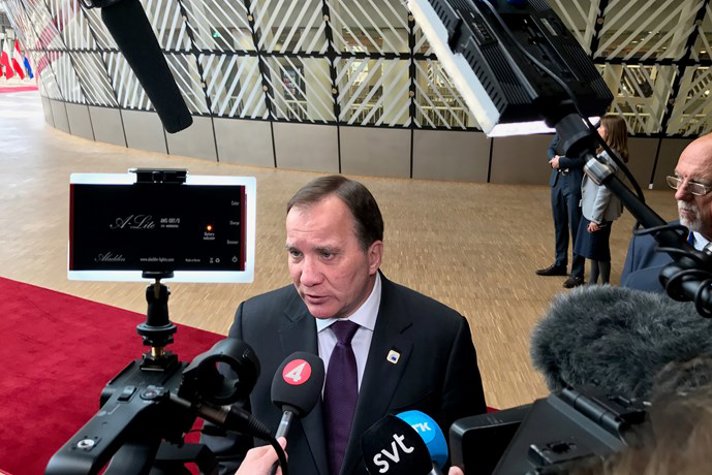 Migration
The European Council will look at the migration situation in Europe and evaluate measures aimed at controlling irregular migration flows. The EU leaders are expected to raise the issue of enhanced cooperation with humanitarian organisations such as the UN Refugee Agency (UNHCR) and the International Organisation for Migration (IOM).
A digital Europe
Taking the Tallinn Digital Summit held on 29 September as a starting point, the European Council will consider how the EU can take advantage of the opportunities offered by digital transformation.
It will also assess the work on the digital single market.
Security and defence
A discussion on permanent structured defence cooperation is also on the agenda, as the EU leaders agreed to such cooperation in June.
The EU's external relations
In light of recent developments, the EU leaders will review certain foreign policy matters, including relations with Turkey.
Brexit negotiations
On 22 June the European Council met in the EU 27 format, that is, without the UK. The Council will review the results of the fifth and latest round of negotiations. The European Council meets in Brussels. This is the third of four meetings this year.