This content was published in the period between 3 October 2014 and 20 January 2019
Ministers on this page who have left the Government
Between 3 October 2014 and 30 November 2021 he was Prime Minister.
Ministers on this page who have left the Government
Between 3 October 2014 and 30 November 2021 he was Prime Minister.
The fifth summit called for a stronger EU Eastern Partnership
When Prime Minister Stefan Löfven and other EU Heads of State and Government met their counterparts from the Eastern Partnership countries in Brussels 24 November, reforms, deepened and broadened cooperation were on the agenda. Prime Minister Löfven particularly stressed the importance of democracy and human rights, gender equality and a strong civil society.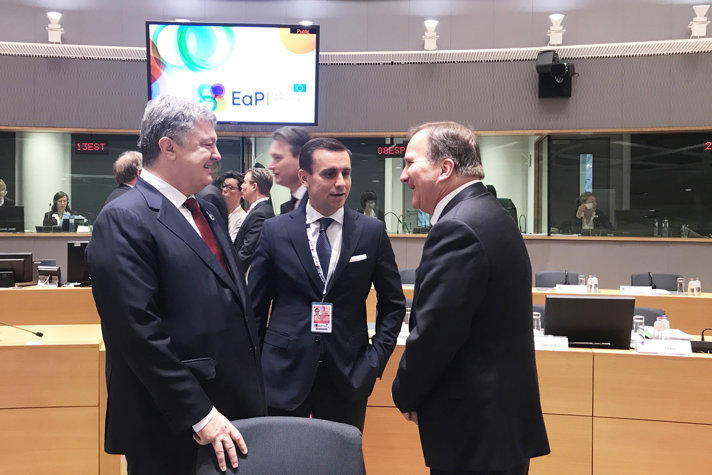 - Sweden's commitment to the Eastern Partnership remains strong. The Partnership is a strategic priority in support of stability and development in our Eastern neighbourhood and a sign of mutual solidarity. Our goal is to support the development of open and sustainable societies with responsible institutions that citizens can rely on, said Prime Minister Löfven and continued:
- We must remain focused, be patient, set clear goals and work consistently. We must understand that transformation takes time. I believe that the door for deeper relations between partner countries and the EU must remain open for those that are willing to work hard to transform their societies. That is good for both partner countries and the European Union.
20 goals to the benefit of people
At the Summit, Heads of State or Government discussed developments since they last met in Riga 2015, and ways to increase reform momentum and strengthen cooperation.
They agreed to cooperate to meet 20 goals to achieve concrete results to the benefit of people. These areas include public administration, trade and economic development, gender equality, mobility, energy issues, the environment and climate change. They also underlined the important role of civil society implementing reforms and developing resilient societies. Common challenges facing both EU Members States and partner countries such as disinformation and cyber issues were also discussed.
Free trade agreements and visa freedom
The association and free trade agreements with Moldova, Georgia and Ukraine mean that these countries will gain access to the EU's single market. Since early 2017, citizens from Georgia and Ukraine can travel to the Schengen area without a visa. Moldova was granted visa-free travel in 2014.
In the margins of the Summit, EU and Armenia signed a Comprehensive and Enhanced Partnership Agreement. Negotiations on a renewed agreement with Azerbaijan are underway, and with Belarus Partnership Priorities will be signed.
All about the fifth summit of the EU Eastern Partnership
All about the EU Eastern Partnership