This content was published in the period between 3 October 2014 and 20 January 2019
Ministers on this page who have left the Government
Between 3 October 2014 and 30 November 2021 he was Prime Minister.
Ministers on this page who have left the Government
Between 3 October 2014 and 30 November 2021 he was Prime Minister.
OECD takes over as host of Global Deal
On 9 November 2018, Prime Minister Stefan Löfven met Angel Gurría, Secretary-General of the Organisation for Economic Cooperation and Development (OECD), to hand over the Global Deal initiative.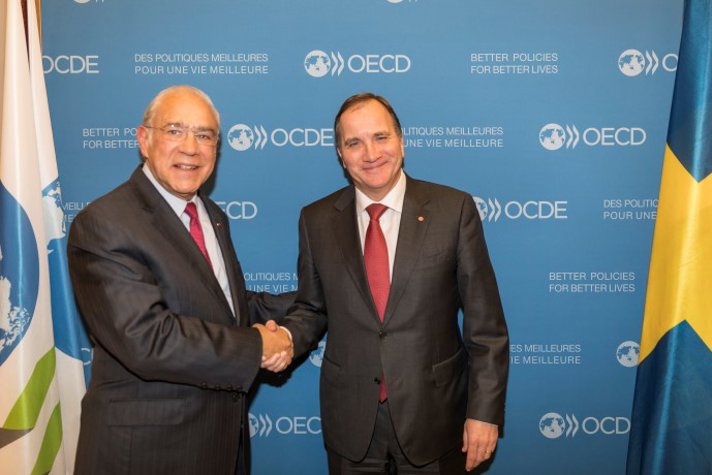 Initiated by Mr Löfven, the Global Deal for Decent Work and Inclusive Growth is an initiative for social dialogue and better conditions in the global labour market. The initiative is about the advantages and gains of globalisation benefiting more people and addressing the challenges in the global labour market jointly. The initiative aims to promote better wages, better working conditions, increased gender equality and more equality for workers around the world. Social dialogue is central, which has so successfully helped Scandinavia, for example, to build robust societies.
In just a few years, the initiative has grown to include almost 100 actors from the whole world: governments, companies and organisations. The OECD, which, together with the International Labour Organisation (ILO) and the Swedish Government, launched the Global Deal in 2016, will now be the host organisation for activities.
The new support unit will comprise six people, two of whom have been seconded from the ILO. Their duties will focus on providing support to Global Deal members and strengthening and sharing knowledge about social dialogue.