This content was published in the period between 21 January 2019 and 8 July 2021
Ministers on this page who have left the Government
Between 3 October 2014 and 30 November 2021 he was Prime Minister.
Ministers on this page who have left the Government
Between 3 October 2014 and 30 November 2021 he was Prime Minister.
Video conference on long-term EU budget
On Midsummer's Eve, Prime Minister Stefan Löfven took part in a video conference of EU heads of state and government. The main topic was the long-term EU budget for 2021–2027 and the proposed recovery package.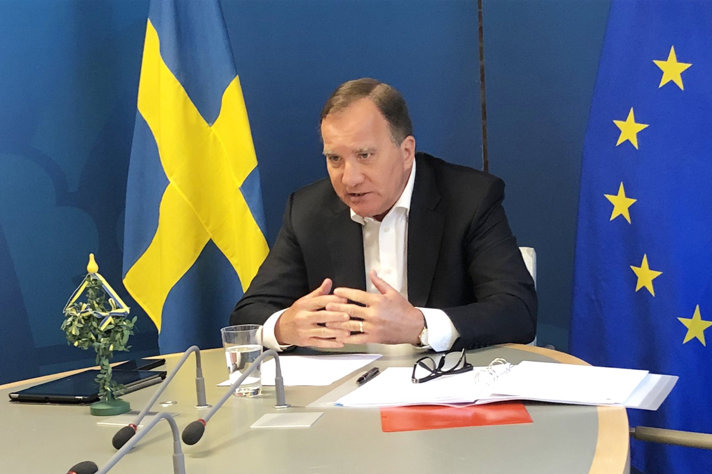 - Europe remains in a serious situation with risk to life and health, and we are far from through this crisis. The pandemic's economic consequences have hit the EU and the world hard and we agree that it will require joint efforts to set the wheels in motion again. The package of economic measures has an important role, but it alone cannot solve the economic problems. To kickstart the real economy, the single market and free movement must function, said Mr Löfven after the summit.
At the end of May, the European Commission presented a revised proposal for the long-term EU budget for 2021–2027, as well as a proposal of measures to help those countries that have been hit hard by COVID-19.
- We believe that the recovery fund should be based on loans and not grants to the Member States. The Commission's proposal would increase the budget by 50 per cent, which is unreasonable. An arrangement involving long-term loans at favourable interest rates enables smart jobs, productivity and competitiveness throughout Europe, added the Prime Minister.
- The Commission has presented a revised budget proposal, but as previously we consider that the total volume remains too large and that continued rebates are a prerequisite for an agreement. However, it is positive that the budget is modernised through, for example, greater focus on the climate and digitalisation, and that a clear link is proposed between the receipt of EU funds and respect for the rule of law. Sweden has fought hard for this, emphasised Mr Löfven.
The Prime Minister was clear that agreement was not expected at the video conference.
- The EU's recovery is important to Sweden, and I look forward to the continued discussions, concluded Mr Löfven.