Cooperation with US on cancer research to be renewed
Since 2016, Sweden has had a bilateral cooperation agreement with the US on cancer research. During Minister for Health and Social Affairs Lena Hallengren's visit to Washington DC on 1 June, the parties confirmed the desire to deepen their cooperation by extending the agreement.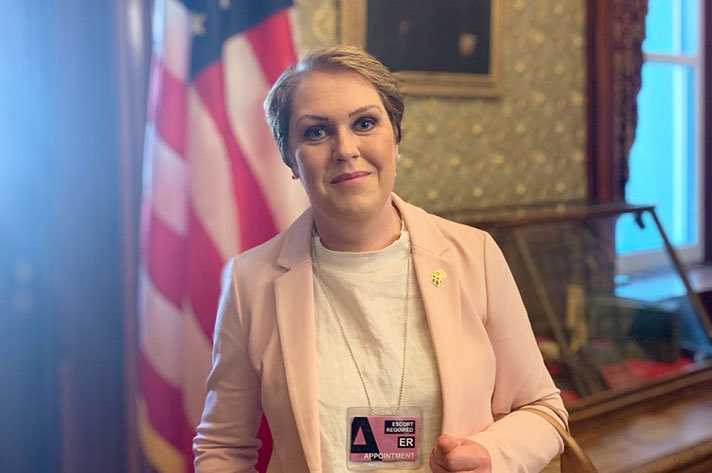 Ms Hallengren visited the US in the first week of June and had a number of meetings with American and international decision-makers. These included White House Cancer Moonshot Coordinator Gabrielle Carnival and representatives of the National Cancer Institute and the US Department of State. Cancer has received renewed attention in the US following President Joe Biden's decision to reignite the Cancer Moonshot programme aimed at reducing the death rate from cancer.
"Sweden's cancer care and research are internationally prominent, particularly with regard to fighting breast cancer and prostate cancer. Continued cooperation with the US is an important contribution to the global fight against cancer," says Ms Hallengren.
The agreement concluded in 2016 describes the general framework to support and conduct high-quality research and the sharing of data to investigate prevention and facilitate early detection and treatment of cancer. Under the agreement, cooperation between a number of research and higher education institutions has been strengthened, and Sweden has gained additional and closer contacts in the US in this field.
The cancer strategies of Sweden and the US have overlapping objectives in many cases and are thus a good basis for further cooperation. Continued cooperation with the US will be valuable in a number of areas, and builds on Sweden's 2009 National Cancer Strategy for the Future and Europe's Beating Cancer Plan. The US is also a prioritised country in the Government's life sciences work, and extensive cooperation takes place between researchers and experts in Sweden and the US.
"Research and care go hand in hand. Sweden's National Cancer Strategy is a cornerstone of the efforts to improve cancer care in Sweden. With numerous actors and several initiatives, both national and international, the work to fight cancer is strengthened," says Ms Hallengren.
Efforts are now under way to identify additional areas of cooperation on cancer research, prevention and care that can be intensified in the renewed agreement.
National Cancer Strategy for the Future
The National Cancer Strategy for the Future was adopted in 2009 and has been an important tool for cancer care in Sweden at national, regional and local level. When the strategy was adopted, the decision was also made to establish six Regional Cancer Centres (RCCs). These RCCs have the task of leading regional efforts to implement the necessary changes within cancer care to achieve the goals of the National Cancer Strategy. Based on the Strategy, the RCCs work together with the regions to make cancer care more patient-centred, equitable and accessible.

The five overall objectives of the National Cancer Strategy are:
reduce the risk of developing cancer
improve the quality of cancer patient management from a patient centred perspective
prolong survival time and improve quality of life after a cancer diagnosis
reduce regional differences in survival time after a cancer diagnosis
reduce differences between population groups in morbidity and survival time