Sweden's feminist foreign policy – examples from three years of implementation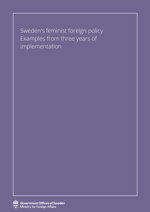 Sweden is the first country in the world to pursue a feminist foreign policy. The aim is to contribute to gender equality and the full enjoyment of human rights by all women and girls.
Download:
The policy was launched in October 2014 and a follow-up by the Swedish Foreign Service has revealed an intensive implementation process that, in just three years, has made its mark at multilateral, regional and bilateral level, and in relation to all the objectives of the Foreign Service's action plan. Efforts to achieve the action plan's six external objectives have taken the following form.
Human rights. Sweden has used a number of different platforms, roles and tools to promote the full enjoyment of human rights by all women and girls globally. Examples include promoting the Swedish legislation on prohibiting the purchase of sexual services, publishing 135 country reports on human rights, democracy and the rule of law, increasing the focus of development cooperation on gender equality, including through a new strategy, and in various ways supporting civil society's efforts to empower women and girls.
Freedom from violence. Sweden has worked actively to give visibility to and combat destructive masculine norms and to strengthen countries' capacities to prosecute perpetrators, assist crime victims and reintegrate soldiers. Sweden has also contributed to increasing knowledge about the link between the uncontrolled spread of weapons and sexual violence against women, and to more actors joining efforts to combat sexual and gender-based violence in crisis situations, and making more than 300 commitments.
Participation in peace efforts. Sweden has assisted in boosting the participation of women in peace processes in Latin America, Asia, Africa and the Middle East, and has both established and encouraged networks of women mediators. Sweden has also made the women, peace and security agenda a top priority for its term on the United Nations Security Council, assumed a leading role in pushing EU efforts forward and adopted a national action plan for Sweden's implementation of this agenda.
Political participation. Sweden has contributed to furthering women's political participation in a number of countries, supported women human rights defenders and pushed for active advocacy for freedom of expression and opinion. Sweden has also pushed for the implementation of gender equality strategies at development banks and in environment and climate funds, and has assumed a leading role in the International Gender Champions Geneva initiative, with special responsibility for representation issues.
Economic empowerment. Sweden has promoted girls' education and women's employment, actively pushed to ensure that a gender perspective is incorporated into the Addis Ababa Action Agenda on Financing for Development and the 2030 Agenda, and advanced gender equality efforts in trade policy and corporate social responsibility. Sweden has also given visibility to the role of men in gender equality through the HeForShe campaign and the 'Swedish Dads' photo exhibition.
Sexual and reproductive health and rights (SRHR). Sweden has intensified its SRHR efforts to keep pace with the challenges through alliance-building, board responsibilities, development cooperation and dialogue, and by initiating the global #SheDecides movement. At country level, efforts have helped increase the number of midwives and improve access to comprehensive sexuality education, contraceptives and safe abortions.