The 2023 Spring Budget in five minutes
The Government presented its Spring Budget on 17 April. The budget has been submitted in an uncertain environment – with war raging in our vicinity, strained European energy markets and Sweden's highest inflation in more than 30 years.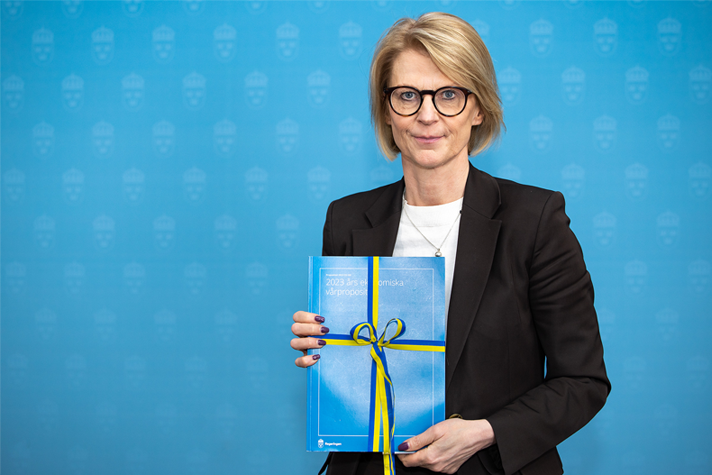 With high inflation and recession at the same time, the economic situation is particularly challenging
The Government's assessment is that the Swedish economy will be in recession throughout 2023 and that the recession will deepen in 2024, with expected GDP growth of -1.0 per cent in 2023 and 1.2 per cent in 2024.
Compounding the already weak economic situation, inflation in Sweden is at its highest in more than 30 years. The consumer price index (CPI) inflation rate is expected to reach 8.8 per cent this year. Currently, inflation is being driven primarily by higher prices of food and services, whereas the impact of energy prices on inflation is decreasing. The underlying inflation – i.e. inflation excluding interest costs and energy prices – is expected to reach 6.6 per cent this year.
As a consequence of the high inflation, real wages are declining and the value of savings are decreasing. High indebtedness and a high proportion of mortgages with variable interest rates also make Swedish households and businesses particularly sensitive to the rapidly rising interest rates that accompany inflation. At the same time, unemployment in Sweden is high in comparison with other European countries.
Public finances are also expected to be impacted negatively by declining demand in the economy in the coming years. However, Sweden's public finances are robust, and central government debt is at a historically low level.
The challenging economic situation has to a large extent shaped the proposals in the Spring Budget and economic policy. The Government is exercising responsibility through continued restraint in its fiscal policy while ensuring that support goes primarily to vulnerable households.
Key indicator forecast 17 April 2023

2022
2023
2024
2025
2026
GDP, fixed prices, percentage change
2.6
-1.0
1.2
2.6
3.2
Employment, aged 15-74, percentage change
2.7
0.2
-0.2
0.9
1.3
Unemployment, as per cent of labour force aged 15-74
7.5
7.9
8.3
8.2
7.5
CPI
8.4
8.8
3.6
1.9
1.9
General government net lending, as per cent of GDP
0.7
-0.4
-0.6
0.2
1.4
General government gross debt, as per cent of GDP
33.0
31.0
31.0
29.8
27.7
Note: Based on published statistics up to and including 8 March 2023 and 17 March 2023 respectively for general government net lending, structural balance and gross debt. GDP and expenditure components refer to constant prices.
Sources: Statistics Sweden and own calculations
A plan to address the major economic challenges and continued work on reforms to solve Sweden's societal challenges
The Government intends to tackle the difficult economic situation by implementing a three-part plan:
Tackle inflation and support vulnerable households
Re-institute the work-first principle
Structural reforms to boost growth
In addition to efforts to manage the difficult economic situation, the Government intends to continue working in several areas to solve societal problems that Sweden has had for some time. This work includes:
increasing safety and security;
improving schools, health and medical care and social care;
strengthening defence and crisis preparedness;
improving energy supply and reducing emissions.
Proposals in the 2023 Spring Budget
In the Spring Budget, the Government proposes measures to protect particularly vulnerable households against rising prices, lower the high unemployment and counter high inflation through improved competition.
The proposals in the Spring Amending Budget amount to a total of SEK 4 billion. The proposals present, among other things, measures within the following areas:
support for consumers and particularly vulnerable households
measures to strengthen Sweden's defence and emergency preparedness
measures to strengthen the labour market and education system
measures to combat crime effectively
measures to prevent crime
measures to strengthen competition
measures to reduce the administrative burden on businesses
voluntary protection of forests and improved conditions for fossil-free energy production.
Fiscal policy during periods of high inflation
Long-term high inflation harms all of society

Low, stable inflation is a prerequisite for good economic development. Inflation is felt throughout the entire economy, but especially by households already on tight budgets before it rose. High inflation also entails increased uncertainty, which makes it more difficult for households and businesses to plan and take financial decisions. Due to this uncertainty, the desire and possibility to consume and invest decrease, which in turn reduces growth.

Fiscal restraint contributes to lowering inflation

Lowering inflation is a key aim of economic policy right now. The foremost tool for lowering inflation is monetary policy, but monetary policy and fiscal policy need to complement each other. In light of the current circumstances, the Government is exercising fiscal restraint. A highly expansive fiscal policy would risk increasing inflation.

It is important that monetary policy and fiscal policy are implemented in a manner that instils confidence in long-term inflation targets. Other actors in society, such as industry and the social partners, also have a collective responsibility to prevent long-term high inflation that becomes entrenched in, for example, price and wage formation.

Passage through the Riksdag
After the Spring Fiscal Policy Bill and Spring Amending Budget have been presented to the Riksdag, the Members of the Riksdag have the opportunity to submit motions with alternative proposals during the subsequent two weeks. Proposed guidelines for economic policy and budget policy included in the Spring Fiscal Policy Bill are considered by the Committee on Finance. The proposed amending budget, including changes in appropriation frameworks revenue estimates and any legislative proposals, is also processed by the Committee on Finance. The Riksdag will take a decision on the budget bills in June (with a tentative date of 20 June 2023).